United States of America
From Halopedia, the Halo wiki
United States of America
Historical overview

Reorganized into:

 
The United States of America,[2][1] also known as the United States, was a former nation of Earth. "America" and "American" are also terms used in reference to the United States.[3] The nation, along with Canada and Mexico, were reorganized into the United Republic of North America.
History
Early history
In 1775,[4] the United States Marine Corps was founded, elements of which would be passed down to the UNSC Marine Corps.[4][5]
The "first" American Civil War was fought from 1861-1865. One of the factions was the Union army.[6]
20th and 21st-century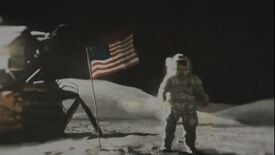 During World War II, Isoroku Yamamoto crippled the US Pacific fleet at Pearl Harbor.[7]
At the end of the 20th-century, America was considered in a financial bubble.[6] By 1996, US Apollo 14 astronaut Edgar Dean Mitchell was the 6th human being to have walked on Luna.[8]
The United States in the first years of the 21st-century served as the inspiration for a strategy and ethos the United Nations would use in the 22nd-century.[9] In 2004, Melissa, an Artificial intelligence from 2552, hijacked a portion of the US payphone infrastructure. This resulted in payphone calls by her to Alaska, Kentucky and Montana.[10]
Later history
Soil issues plagued the Midwestern United States, causing many American farmers to leave Earth favoring colonization.[11]
From 2468, Lutheran Americans of Germanic descent would colonize Harvest.[12]
The URNA
By 2524,[3] the political remnants of the United States would go on to be a part of the United Republic of North America.[1] The United States Marine Corps would at some point become defunct as well.[13] Despite this reorganization, former U.S. citizens still identified as American nationals.[14]
Geography
A region of the United States known as the American Midwest, which Chicago was a part of. The United States was also composed of entities called "states".[3]
Locations
Government and society
The midwestern United States had an "inflectionless nonaccent".[15]
List of appearances
Sources
^ a b c Halo Encyclopedia (2009 edition), Earth, p. 284-285, (2009); p. 296-297 (2011 edition)
^ Halo: Contact Harvest, chapter 1
^ a b Halo Encyclopedia (2009 edition), Timeline, p. 31
^ Halowars.com, UNSC - Barracks (Warback Machine archive and Halopedia archive)
^ a b Halo: Evolutions, The Impossible Life and the Possible Death of Preston J. Cole
^ Halo: Silent Storm, chapter 4
^ Society of the Ancients, Members (Retrieved on Nov 22, 2007) [archive]
^ Halo Encyclopedia (2009 edition), Human Colonization of Space, p. 42-43 (2009 & 2011 edition)
^ ilovebees.blogspot.co.uk, six degrees of (Retrieved on Nov 12, 2020) [archive]
^ Halo: Contact Harvest, Page 116 (Digital)
^ Halo Encyclopedia (2009 edition), Human Colonies, p. 286-287 (2009); p. 298-299 (2011 edition)
^ Halo Encyclopedia: The Definitive Guide to the Halo Universe: The Definitive Guide to the Halo Universe, Unified Ground Command, p. 54-55 (2011 edition)
^ Halo: Contact Harvest, chapter 2
 

Earth nations

Individual nations

Multinational unions

Multinational regions

Italics indicate a defunct polity