Granion
From Halopedia, the Halo wiki
Granion

Role:

Domestic transport[1]

Chronological and affiliation

Era:

Affiliation:

 
Granions are a kind of civilian domestic transport aircraft employed by the Covenant.[1]
Overview
[
edit
]
Design details
[
edit
]
Granions depart from typical Covenant design stylings, displaying a much more lavish series of ornate golden trims than standard purple nanolaminate plating. The rear of the ship has a long, sweeping tail.[1]
Granions served as pleasure barges for the regal and clerical sects of Covenant high society, particularly inside the Golden City on High Charity. They generally served to transport prophets and their entourage, featuring an exterior forecourt for discussion and leisure and a series of private cabins below-decks for meditation, introspection and the use of stimulants.[1]
Variants
[
edit
]
Small variants of Granion also existed, equipped to transport only a single San'Shyuum and their Honor Guard - who also served as the ship's pilot.[1]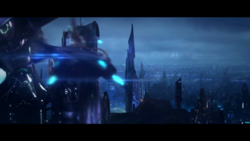 One such Granion was operated by an Unidentified San'Shyuum scribe in 2552, during which time he ruminated on the incorporation of the Unggoy into the Covenant as part of The Punished Deeds.[2]
The Granion's usage is very broadly similar to the "Runner-class transport" - a non-canon vehicle that was concepted for the cancelled Halo MMO.
List of appearances
[
edit
]
Sources
[
edit
]
 

Atmospheric/Exoatmospheric Craft of the Covenant and its remnants

Combat aircraft

Support aircraft and gunships

Troop carriers

Boarding craft

Exoatmospheric Craft and shuttles

Civilian transport craft

Pre-Covenant craft