Sunrise on Sanghelios
From Halopedia, the Halo wiki
"WE'VE GOT A NEW CONTACT, UNKNOWN CLASSIFICATION!"

This article may contain information based upon upcoming, unreleased, or recently-released content, and may not be fully complete. Additionally, the information may be subject to change if it is based on pre-release material. Please update it as soon as any relevant and accurate material is available.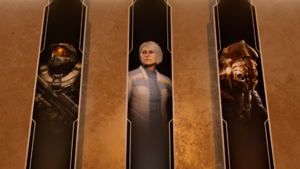 Sunrise on Sanghelios is the third short story in the Halo Waypoint Chronicle series of shorts, written by Alex Wakeford.[1] The debut of the story was first teased at the Canon Fodder Live event on day one of the Halo World Championships 2023, with the story officially debuted in a live reading on the following day by Steve Downes, Keith David, and Jen Taylor - with Wakeford himself narrating the story between the actors' parts.[2] The story is scheduled to be released on Halo Waypoint in text form in a fashion similar to the other previous Waypoint Chronicles, alongside a clipped scene of the voice actors reading their lines.[3]
The short story is set immediately following the final cutscene of Halo 5: Guardians, and depicts the discussion between John-117, Thel 'Vadam, and Catherine Halsey following the game's events, with the live debut featuring all three characters' voice actors reprising their roles from the Halo games to depict them.[2] The scene is itself a fleshing out of the early chapters of the novel Halo: Bad Blood, in which the novel's protagonist Edward Buck had mentioned the trio convening for a brief conversation—though the details of such had been left out of the novel.
Official synopsis
[
edit
]
Plot summary
[
edit
]
This section needs expansion. You can help Halopedia by expanding it.
Appearances
[
edit
]
External links
[
edit
]
Sources
[
edit
]
 

Halo short stories, compilations, and flash fiction

Novellas

Compilations

Data Drops

Game related

Italics indicate items yet to be released.


Bold indicate items included in a compilation.