Steve Downes
From Halopedia, the Halo wiki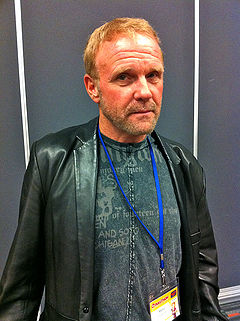 Steve Downes (born June 28, 1950) is an American DJ and voice actor, best known as the voice of John-117, the SPARTAN-II protagonist of the Halo franchise.
Biography
[
edit
]
Broadcast radio
[
edit
]
Downes worked in the music and broadcast radio industry for 44 years.[1] In the 1980s, he hosted several syndicated radio shows and specials including The Superstar Concert Series. In the 1990s, he was the host of the award winning weekly live call-in show, Rockline, which provided Steve with several very memorable opportunities, including:
Playing tambourine "live on-air" with the band Little Feat.
Giving the first "live on-air" radio interview to all five members of the reunited Eagles
Welcoming the return of Page and Plant "live on-air"
He worked as the host of the morning show on 97.1 WDRV "The Drive" in Chicago, Illinois, for 14 years. Additionally, he hosted his nationally syndicated show, The Classics, every Sunday night. The Classics spotlights various Rock n' Roll artists and their ideas and stories behind the music. He was also the narrator for a series called Shark Attack!
Downes announced that he will be retiring from his career as a radio host in February 2015 to focus on his personal life, though he will continue his voice acting work.[1]
Voice acting career
[
edit
]
Downes' first voice acting role was in 1999 as Gunnar in the game Septerra Core: Legacy of the Creator, made by Valkyrie Studios. Even though it was a minor role, his voice acting was noticed by Martin O'Donnell. When O'Donnell began to work on Halo: Combat Evolved, he invited Steve to voice act. Downes accepted the offer and played the role in the subsequent games of the original Halo trilogy, Halo 2 and Halo 3. Later, he did voice work for an online student animation called "Old Kids", released in March 2010.[2][3] Downes also played John-117 in Halo: Reach's Firefight mode and reprised his role in Halo 4, Halo 5: Guardians and Halo Infinite, as well as Super Bomberman R as Master Chief Bomber.
Downes has stated that he is not a gamer or very proficient at playing the Halo games; in an interview, he stated that he was defeated when pitted against a 12-year old girl, with the game settings supposedly adjusted in his favor, when playing Halo multiplayer in a store opening event.[4]
Gallery
[
edit
]
Steve Downes during the production of Halo 3.
Sources
[
edit
]
External links
[
edit
]