Shrapnel mine
From Halopedia, the Halo wiki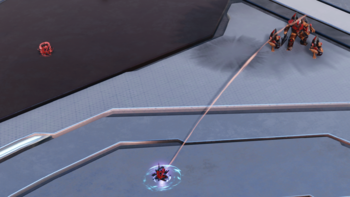 The shrapnel mine, nicknamed trip mine,[1] is a spike landmine explosive employed by the Banished.[2] When deployed, the shrapnel mine is cloaked, and detonates when enemies are detected nearby. They are typically carried by Jiralhanae leading an Unggoy squad,[3] and occasionally Jiralhanae Jumpers.[1] Given its name and appearance, the shrapnel mine likely shares properties with the explosive rounds fired from the shrapnel cannon, which is a variant of the spike cannon employed by the Banished.[4]
Gameplay
[
edit
]
Banished Outpost
Leader powers

Counter Measures

Info: Mines will now drop around newly captured resource points. Enemy decap rate is now slowed on all points you control. Jump Pack Brutes will now drop Trip Mines when in flight.
Tier: 1
Cost: N/A; passive power
In Halo Wars 2, Shrapnel Mines is an upgrade for Grunt Squads that costs

300. It can be purchased at the Banished outpost for all Banished leaders, except for Shipmaster and Arbiter. One of Atriox's leader power, Counter Measures, upgrades Jump Pack Brutes to deploy shrapnel mines while they jump, thus leaving a trail of shrapnel mines underneath their jump trajectory. In Blitz, Shrapnel Mines is exclusive to Isabel and costs

40 energy.
Each mine is cloaked shortly after being deployed, and will detonate when enemy ground units enter its proximity. The explosion damages nearby enemy units and momentarily reduces their movement speed. The shrapnel mines deployed by Grunt Squads are removed after 4 minutes and 30 seconds, whereas the shrapnel mines deployed by Jump Pack Brutes are removed after just one minute.
Gallery
[
edit
]
List of appearances
[
edit
]
Sources
[
edit
]
 

Ordnance in service of the Covenant and its remnants

Directed explosive weapons

Projectile weapons

Mines

Explosives

Grenades

Ammunition