List of Halo 4 commendations
From Halopedia, the Halo wiki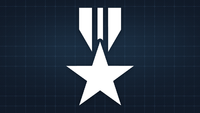 There are 121 commendations in Halo 4. These commendations are primarily advanced through playing War Games and Spartan Ops; only nine commendations can be completed in the campaign. Commendations are organized into five categories: Weapons, Enemies, Vehicles, Player, and Game Types.
There are seven tiers of commendations: Novice, Qualified, Proficient, Adept, Expert, Distinguished, and Master. Not all commendations utilize all seven tiers- the majority contain only five.
Unlike Halo: Reach, Halo 4 commendations can be advanced while playing on Easy.
Upon completing a tier, players are awarded bonus XP. The amount of XP varies from tier to tier and commendation to commendation, ranging from 250-10000XP.
Novice: rewards average 250XP
Qualified: rewards average 500XP (not included if there are fewer than 7 tiers)
Proficient: rewards average 500-750XP
Adept: rewards average 750-1000XP
Expert: rewards average 1000-2500XP
Distinguished: 2500-5000XP (not included if there are fewer than 6 tiers)
Master: 2000-10000XP