BTS: Halo Waypoint
From Halopedia, the Halo wiki
The BTS: Halo Waypoint is a behind-the-scenes look at the development and features of Halo Waypoint. It was first released on YouTube and Halo Waypoint on December 17, 2011.[1][2] The video features exclusive interviews with 343 Industries staff.
Transcript
[
edit
]
X BEGINNING OF TRANSMISSION
David McMahon: "One of the great things about the Halo universe is how deep it is. And Waypoint exposes a lot of that."
Jessica Shea: "You log-in and its your character, it's your helmet, it's you; it's you and your stuff. It's that unified experience."
CJ Saretto: "We tried to make it easier for users to actually find the different things that they're interested in and find the connections between them."
Kyle Pointer: "I'm really excited about finding new ways to customize and personalize the experiences even deeper."
Jerry Hook: "And now as we look across devices and into new titles, both the number of users and the franchise is growing as well."
Doug Hebenthal: "It's really exiting for the Halo universe because this is a place were we can do all things Halo."
The video's title is presented.
Doug Hebenthal: "Say 2008, we started having conversations about how do we have a presence across all devices. When we first launched Waypoint it was primarily a web product and a console product. Eventually we brought on a Windows Phone app which focused on comparison of you friends, kind of like your pocket companion for how you're doing in Halo. The crescendo is this year, where on November 15 we released stats, and fiction and all your Halo career across all of our screens."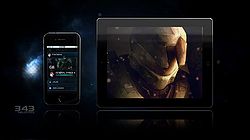 Justin Harrison: "Now you get can to Waypoint on the web from any phone, from any slate, from any tablet, from any mobile device."
David McMahon: "It's really important for us that a lot of the designs carried across from mobile, to web, to console."
Kyle Pointer: "So there's three major things that we wanted to put forward. One was a presence of yourself."
Jessica Shea: "You are the star."
David McMahon: "Your online persona shines throughout all of the different screens."
Kyle Pointer: "Two was still highlighting the content, really letting the fans take hold of some of that immediately."
CJ Saretto: "So that's clear the things that are actually Halo canon, and then the things that the community has contributed. Things like Red vs Blue."
Kyle Pointer: "And finally with some of the news and social feeds."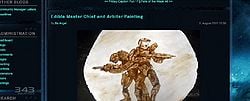 Jessica Shea: "We now have a submit news button. So if you make something, whether it's Machinima, a montage, or cookies in the shape of Master Chief's helmet. There are people on that website who will absolutely love it."
David McMahon: "When you come into Waypoint on the console, what you're gonna see is a thing we call the wonder-wall. And on the wonder-wall, we really try to highlight some of the key things our fans are interested in. Things like latest videos, latest galleries, your player cards, your friend's player cards, links directly into the universe."
CJ Saretto: "Tell me about the characters, tell me about the factions, the weapons, all of these things."
David McMahon: "It's a place where on one screen, you can really get access to all the content that's available within Halo Waypoint."
Justin Harrison: "We think that it's easier to find and understand this information than it has ever been before. You can now view your stats on one page where you can easily pivot based on game type, based on map, based on difficulty."
CJ Saretto: "And then, the Halo career itself consolidates all the achievements across every Halo game that has existed on Xbox 360.
Doug Hebenthal: "You're looking at over twenty terabytes worth of data, stats, data-tracking and over two hundred twenty hours worth of videos. That's a lot of information we're trying to process."
Humberto Castenda: "We thought what if we gave the users the ability to create their own challenges."
CJ Saretto: "Then you can invite up to seven of your friends to attempt to complete that challenge with you.
Doug Hebenthal: "See who can complete the challenge first. Kill 100 Grunts before I do. Let's see how that works."
Humberto Castenda: "The more difficult a challenge, the more credits they can earn."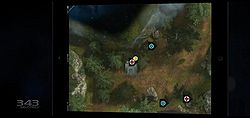 Doug Hebenthal: "Halo is a great example of a place where I can have an experience inside of my console. But we didn't really have a connection to my other devices in real-time. So we thought of this notion of Atlas."
CJ Saretto: "Atlas started as a map app. We thought it would be extremely cool if the map app was actually connected to the game."
Mark Vayman: "Your Xbox sends a heartbeat, telling us what you're doing at that point in the game."
Justin Harrison: "You can see where all of your team mates are. We'll put the current game score, who's on what team; you can see where all of the weapons and vehicles are on in real-time on Custom game.
Humberto Castenda: "We're super excited about how people are going to use it. Is it to combine their forces and focus on a strategy, or are they going to have a companion sitting next to them. Sort of a co-driver."
Justin Harrison: "And it's just the beginning of what we're doing with this technology."
David McMahon: "One of the important things about this release for us is that it gives us a solid foundation for Waypoint moving forward."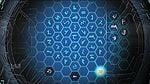 Doug Hebenthal: "We did a really cool thing with Halo: Anniversary where we had unlockables, you went to a certain place in the game you got to unlock a video and eventually got a bonus video. That's just scratching the surface of the types of things we can do to reward players who participate in the franchise."
Jerry Hook: "It is very exciting to have Waypoint a part of all of our user's device ecosystem. And as the franchise looks at doing more incredible multiplayer experiences we're going to be right there with them."
Humberto Castaneda: "To make sure that Waypoint is integrally tied to your gameplay experience."
CJ Saretto: "Waypoint is the hub of all things Halo. It's the universe, your career, your community, and extending your gameplay."
Doug Hebenthal: "It's about your experience inside of the Halo universe."
Gallery
[
edit
]
Halo themed cupcakes. These are another example of user-generated content on Halo Waypoint.
Sources
[
edit
]