BTS: Anniversary Terminals
From Halopedia, the Halo wiki
The BTS: Anniversary Terminals offers a behind-the-scenes look at the developmental process of the terminals featured within Halo: Combat Evolved Anniversary, and was first released on YouTube and Halo Waypoint on Oct 24, 2011.[1][2] It features exclusive interviews with both 343 Industries and the motion design group at Sequence.
Transcript
[
edit
]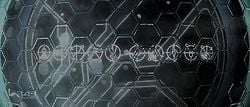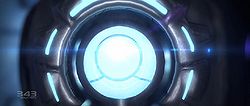 343 Guilty Spark: "We have much to discuss, humans. I've been away far too long. You have been away far too long."
Simultaneously, a Forerunner terminal appears; the geometric patterns on its glass surface gradually vanish and begins to show the following text:.
[044657.04.21.22.34.36]
The Halo: Combat Evolved Anniversary logo is presented.
Frank O'Connor: "But we also wanted to add some fiction because that was the only thing that we weren't really touching."
Footage of Halo 3 Terminals and Halo 3: ODST audio logs are simultaneously presented.
Dennis Ries: "We wanted to make sure that we could do them in a unique way. And so we worked with the Sequence Group to do more than just a motion comic. It really is more like an animated short."
The Sequence logo is presented.
A brief snippet of the first Terminal within the campaign is shown.
Chad Armstrong: "We kind of settled on this story that talks a bit about 343 Guilty Spark."
Ian Kirby: "Guilty Spark in the game, is this character you don't really get to know too well. He's there and you form a bond with him, but at the same time, you don't know his story. You don't know his back-story. That's been the fun thing. It's like: 'What the hell's he been doing for a 100,000 years?'"
Footage of Halo 3 cut-scenes featuring 343 Guilty Spark and of Terminal footage are shown.
Chad Armstrong: "Other than what he says aloud, we don't understand what he's thinking. This was kind of an opportunity to explore that."
Kevin Grace: "We just did the voice over with 'Guilty Spark', with Tim Dadabo. At one point in the session, he just said that he thought these scripts were really cool, 'cause he was able to learn some things about Guilty Spark, about him, that he had never known before in all of his time with the all of the games, before. And that to me was a pretty good sign that we're putting together some interesting new stories, that we're adding some cool new dimensions to the universe."
Footage of Tim Dadabo rehearsing the voice-work 343 Guilty Spark is briefly shown along footage of the Halo: Combat Evolved Anniversary terminals teaser.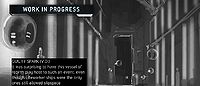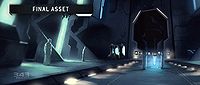 David Ellis: "It also runs parallel to the original events. So it doesn't change them in anyway, but it will help you to have greater context, a great understanding, and hopefully greater appreciation of why you're in this place and what you're doing."
Greg Hermann: "We tried to get them to fit very naturally within the existing spaces, rather than create new 'out of the way' places for the Terminals to exist."
Footage of The Pillar of Autumn and the location of the first terminal in said level is shown.
Frank O'Connor: "Even if you're not familiar with Halo, and perhaps especially if you're not familiar with Halo, this will give you some insight into the history of our universe and some of the characters that are involved in it."
Terminal footage is presented.
343 Guilty Spark: "All preparations are complete for my installation."
Dan Sioui: "There'a just so much that's been established."
Ian Kirby: "It's actually worked out so well for us to build upon that and work with it."
Bonnie Ross Ziegler: "We thought it would be an interesting opportunity to help tie the story in. So with the Terminals, you'll get a couple sneak-peaks of some things that we're thinking for Halo 4."
343 Guilty Spark: "And through it, the familiar shape awaits. Halo. Home."
Footage of Installation 04 is presented within a purple haze. The 343 Industries logo is then presented as the video finishes.
Gallery
[
edit
]
Sources
[
edit
]