Jessica Shea
From Halopedia, the Halo wiki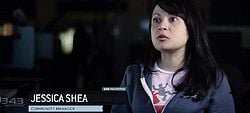 Jessica Shea, also known as bs angel, is a former employee of 343 Industries and part of the Halo Waypoint team.[1] She was formerly the Community Manager for 343 Industries.
Biography
[
edit
]
Before 343 Industries, Shea was known for being the writer of the primarily Halo-themed video game blog Hawty McBloggy as well as running the website Halo 3 Screenshots.
She joined 343 Industries on September 13, 2010 as Community Manager.[2] As Community Manager, she provided feedback and updates to the community through Waypoint's weekly Halo Bulletin.[3] On March 19, 2014, Shea announced that she left her post as Community Manager for a different position in 343 Industries, stating that she is now "five desks up and three rows over from [her] usual spot".[2]
On April 8, 2016, Shea left 343 Industries.[4]
Sources
[
edit
]
External links
[
edit
]