Algolis
From Halopedia, the Halo wiki
Algolis
Astrographical

System:

Algol system (Beta Persei)[1]

Moon(s):

At least two[2]

Societal

Species:

Human (Non-native)

Colonized:

Government:

 
Algolis was a human colony planet. The planet possessed at least two moons.[2] Algolis housed a relatively small civilian population and was home to some of the Office of Naval Intelligence's research and development projects for prototype weapons, including the HRUNTING/YGGDRASIL Mark I ADS.[3]
Overview
[
edit
]
Topography
[
edit
]
Locations
[
edit
]
Known residents
[
edit
]
History
[
edit
]
Human-Covenant war
[
edit
]
The Office of Naval Intelligence's Section Three had facilities on the planet, to which several SPARTAN-II augmentation chemical precursors were sent without Dr. Catherine Halsey's consent, likely in order to be researched for Project CHRYSANTHEMUM.[4]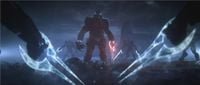 Algolis Invasion
[
edit
]
Main article: Algolis Invasion
The colony was attacked by the Covenant at some time before March 28, 2549.[Note 1] During the battle, the planet's civilians were evacuated while Marines from the UNSC Marine Corps of Engineers made a last stand against Covenant forces. The UNSC destroyer UNSC The Heart of Midlothian was en route to the planet to secure a powered armor before the facility was attacked. The planet's survivors escaped in transport ships to a UNSC frigate in orbit that carried them to safety.[5][6] The battle also resulted in the formation of the Banished as well.[7] Overall, it's unknown what happened to the colony following the battle.[3]
Gallery
[
edit
]
List of appearances
[
edit
]
Sources
[
edit
]