Ages of Conflict
From Halopedia, the Halo wiki
The Ages of Conflict was the second Age in the Covenant Age system.[1][2] There have been 39 known Ages of Conflict, each being time periods in Covenant history where the Covenant suffered from large internal or external conflicts.
Overview
[
edit
]
During the Progression of the Ages, Ages of Conflict are represented by iron and the following dialogue is as followed for this age:[1]
Leader: "Conflict."
Congregation: "The Second Age! Rivalry and bloodshed!"
First Age of Conflict
[
edit
]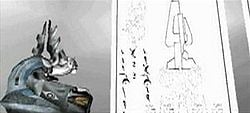 Second Age of Conflict
[
edit
]
Third Age of Conflict
[
edit
]
The Third Age of Conflict was a time of violent civil wars that so often defined the Covenant's early history, as the empire took shape through conquest, submission, and slaughter.[8] This age occurred within the first centuries of the Covenant's existence.[9]
The Varric-pattern heavy cruiser was first commissioned and entered service with the Covenant fleet for use in the civil wars of the Third Age of Conflict.[8]
The Shuul'se-pattern subjugator Kraken,a powerful siege tower and excavator, was first commissioned by the Covenant Hierarchs, during this Age.[10]
Fourth Age of Conflict
[
edit
]
Sixth Age of Conflict
[
edit
]
Thirty-Ninth Age of Conflict
[
edit
]
List of appearances
[
edit
]
Sources
[
edit
]