Outpost Discovery
From Halopedia, the Halo wiki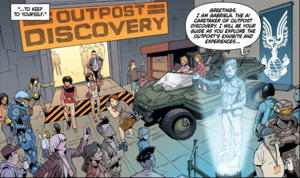 Outpost Discovery is an exploratory initiative launched by the United Nations Space Command in the days following the conclusion of the Human-Covenant War. The initiative acts as an educational tool and mobile recruitment station aimed at inspiring and training the next generation of UNSC personnel. The primary goal of the outpost is to protect humanity by arming them with knowledge of their own history – from their enemies and heroes, to their triumphs and tribulations. Outpost Discovery travels across Earth, stopping in major population centers and inviting average citizens to explore the legacy of humanity's survival and experience the thrill of being part of the UNSC's first line of defense against whatever threats still lurk in the galaxy.[1]
History
[
edit
]
Following recovery by Linda-058 in 2553, AI Gabriela was incorporated into Outpost Discovery appearances.[2] Outpost Discovery has also visited multiple cities over its run including Orlando, Philadelphia, Chicago, Houston, and Anaheim.[3] During one of the Outpost Discovery appearances, a section of the Supplication of Purity on display contained a hostile intelligence. This intelligence began a Self-destruct sequence which was averted by Gabriela and attendees at the time.[4]
Outpost Discovery is the meta in-universe fictional framework for the real-world Halo: Outpost Discovery, a travelling event touring North America in summer 2019.
List of appearances
[
edit
]
Sources
[
edit
]