Waypoint
From Halopedia, the Halo wiki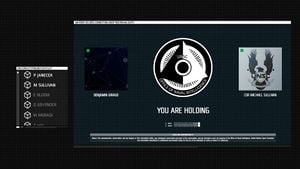 Waypoint is a UNSC communications network operated on both local and interstellar scales, essentially a descendant of the 21st-century Internet. Part of the UNSC's interstellar communication network, it is the primary delivery service for mail across interstellar distances for both civilians and military personnel.[1] Waypoint also serves as a major news source, featuring many prominent public news channels,[2] such as Waypoint Nine.[3] Individual starships, such as UNSC Infinity, often also have their own shipboard Waypoint intranet.[4]
Waypoint is considered less secure than the ChatterNet, as it is often monitored by intelligence agencies, such as the Office of Naval Intelligence.[5] If a certain word or phrase that is deemed of interest is said during a Waypoint call, the entire conversation will be flagged for review by ONI.[6]
The name of the in-universe Waypoint service refers to Halo Waypoint, 343 Industries's online portal for Halo content.
List of appearances
[
edit
]
Sources
[
edit
]
See also
[
edit
]