Halo: Outpost Discovery
From Halopedia, the Halo wiki
This article is about the real world event. For the in universe event, see
Outpost Discovery
.
Halo: Outpost Discovery

Release date(s):

Summer 2019

 
Halo: Outpost Discovery is a meta interactive experience developed by 343 Industries, designed to allow Halo fans to experience the Halo universe in a number of unique ways, including a museum, theatres, VR, gameplay and more. The experience toured several locations in North America through the summer of 2019.[1] In February of 2020, head of consumer products for 343 Industries John Friend confirmed that the Outpost event would not be returning for 2020 due to a need to focus on the launch of Halo Infinite.[2]
Setting
[
edit
]
Halo: Outpost Discovery is framed through the meta in-universe "Outpost Discovery", an event hosted by the post-war UNSC to encourage civilians on Earth to learn about humanity and the galaxy at large. Players are able to interact with two SPARTAN-III characters, Owen-B096 and Hazel-A302.
Experiences
[
edit
]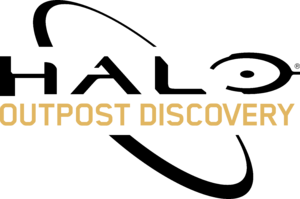 Gabriella terminal
[
edit
]
At the event, the AI Gabriella had a terminal where she would welcome people coming into the event. This terminal is not explicitly tied to any of the experiences. This terminal had a sign-in sheet that was signed at each event.
Hall of History
[
edit
]
The beating heart of Halo: Outpost Discovery is the Hall of History, where you immerse yourself in the achievements and tribulations of humanity through a combination of informative graphics, artifacts, and tangible visuals pulled directly from the Halo franchise. Featuring everything from United Nations Space Command (UNSC) weapons and accessories, uniforms, an iconic to-scale Warthog vehicle, life-sized sculptures, and more. This exuberant, visceral tour of the Halo universe is the perfect introduction to your journey. In the Hall of History, new and experienced Halo fans alike find something to discover.
The Ring Experience
[
edit
]
The Ring Experience lets attendees explore the story of the mysterious Halo Array through artifacts that leap off the levels and pages of some of your favorite Halo titles. At the center of the Ring Experience is a visually immersive, multi-projector, dome-based theatrical experience, featuring a never-before-seen exploration of a Halo ring, giving fans a brand-new appreciation for the sheer scale and magnitude of these ancient installations.
Covenant Escape
[
edit
]
Explore a reclaimed section of a Covenant ship in this escape-room-style experience. Here, attendees aim to familiarize themselves on various high-risk boarding maneuvers and strategies commonly undertaken by the UNSC. As the challenges intensify, guests must work together to disable the Covenant technology as quickly as possible in order to set themselves free!
Combat Deck
[
edit
]
Experience the rush of playing Halo in "real life" with this Halo-themed laser tag Combat Deck. Danger is present around every corner, as attendees and their squadmates must use their cunning and coordination to win this fast-paced, team-based, pulse-pounding activity. Two teams of up to twenty go head-to-head for a chance to claim victory in the ultimate "Big Team Battle" experience!
Training Grounds (VR)
[
edit
]
Through the lens of virtual reality, teams of three will simulate what it takes to be a Spartan, in an immersive, Halo themed combat training environment.
Pelican Training
[
edit
]
Step into the Pelican Training simulation, an interactive experience that gives you an opportunity to get hands-on with some of the UNSC's most battle-hardened hardware through teamwork and deft decision-making.
UNSC Kiosk
[
edit
]
Have questions? Visit our onsite information booth. Here, attendees can inquire about the show, special events, and receive other information related to Halo: Outpost Discovery.
Target Range
[
edit
]
A challenging, interactive target range lets attendees see if they have what it takes to defend humanity. This fast and fun test of skill features UNSC and Covenant-themed blasters, target alleys, and integrated touch panels that allows attendees to choose from a variety of game difficulties and target profiles. After each match, attendees can view and compare their speed and accuracy with each other to see which recruit reigns supreme!
MEGA Construx
[
edit
]
Build your own battle missions with Halo® Mega Construx™! This interactive exhibit is open to fans of all ages and is the perfect shared experience for the entire family. Come enjoy our huge collection of Halo® Mega Construx™ micro action figures and experience a buildable full-scale Drop Pod that brings the sci-fi universe to life!
Post Exchange & Marketplace
[
edit
]
If you're looking for a unique retail space that has one-of-a-kind Outpost Discovery products, memorabilia, and collectibles, look no further! The PX (Post Exchange) offers a wide variety of exclusive items that are available only at Halo: Outpost Discovery in Orlando, Philadelphia, Chicago, Houston and Anaheim.
The Marketplace will feature vendors that specialize in a variety of items including merchandise, collectibles, cosplay materials, games, and a few surprises!
Scannable items
[
edit
]
At the event, several plaques were available that attendees could scan. Below is a list of all those plaques.
There was an application made for the events.
July 5–7 - Orange County Convention Center, Orlando, FL[3]
Gallery
[
edit
]
Concept art
[
edit
]
Development
[
edit
]
Sources
[
edit
]