San Diego Comic-Con International
From Halopedia, the Halo wiki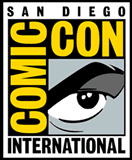 San Diego Comic-Con International, commonly known as Comic-Con or the San Diego Comic-Con and sometimes shortened to SDCC, is an annual multigenre fan convention founded as the Golden State Comic Book Convention and later the San Diego Comic Book Convention in 1970 by Shel Dorf and a group of San Diegans.
Overview
[
edit
]
It is traditionally a four-day event (Thursday through Sunday) held during the summer in San Diego, California, at the San Diego Convention Center. Officially, "The San Diego Comic-Con" is the name of the non-profit organization that organizes and puts on the convention.
Originally showcasing comic books, the convention has expanded over the years to include a larger range of pop culture elements, such as science fiction, fantasy, horror, anime, manga, animation, toys, collectible card games, video games, television, and movies. The convention is the largest of its kind in the United States, filling to capacity the San Diego Convention Center with 125,000 attendees in 2006.
Since 1974, Comic-Con International has bestowed its annual Inkpot Award to guests and persons of interest in the industries of popular arts as well as to members of Comic-Con's Board of Directors and convention committee. It is also the home of the comic-book industry's Will Eisner Awards.
In July 2006, the Halo 2 ODST Exclusive Action figure was given out exclusively at the convention.
In July 2010, the Halo: Reach multiplayer map Forge World made its debut during a Bungie Conference. Firefight Versus, the Firefight map Courtyard, and the drivable Forklift was introduced as well that day.
In 2011, an early build of Halo: Combat Evolved Anniversary was shown to the public. 343 Industries employees played the campaign level The Silent Cartographer.
In 2012, there was a Halo 4 panel hosted by 343 Industries, which provided information about Halo 4: Forward Unto Dawn, the Halo 4 campaign, the multiplayer, and Spartan Ops.[1]
Sources
[
edit
]