Caracalla Park
From Halopedia, the Halo wiki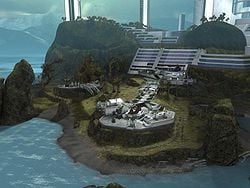 Caracalla Park was a public park in downtown New Alexandria, Reach, located across the bay from the city's starport.
History
[
edit
]
During the Fall of Reach, several M95 Lance missile batteries were placed around Caracalla Park to help stave off Covenant air forces. On August 23, 2552, SPARTAN-B312 fired the batteries and damaged a Covenant corvette, allowing civilian transports to escape the city.[1]
Description
[
edit
]
Caracalla park was a large urban park in downtown New Alexandria. The park ran from a small lagoon on the right side through some open areas studded with boulders, trees and other buildings to a rocky wooded area to the right. Dividing the lagoon from the wooded area was an access road that ran from the main Pavilion building to a small structure in the center of the park, which also has a bridge that runs from it to another smaller building set on top of a hill. The main Pavilion building has a set of steps leading up from the main road to the hallway inside it and also has some stairs that lead up to the roof, which has a full view of the entire park. On the lower right of the building is an open garage. The park overlooked the Delphi Triple-Strand Network of space elevators.[2]
The park is named after Caracalla, an emperor of ancient Rome.
Gallery
[
edit
]
SPARTAN-B312 fighting two Jiralhanae Chieftain in the park's main building.
List of appearances
[
edit
]
Sources
[
edit
]