Recovery/Walkthrough
From Halopedia, the Halo wiki
Prev:

Next:

Recovery

Game:

Player:

Date:

Location:

Objective(s):

Investigate the UNSC signal
Recapture FOB Golf

Halopedia doesn't currently have a walkthrough for this level. Could you write one?

 
Overview
[
edit
]
Having secured Outpost Tremonius, John-117 sets out to investigate a distress signal. On his way, he retakes FOB Golf, one of the UNSCs Forward Operating Bases held by the Banished.
Walkthrough
[
edit
]
Once you have completed Outpost Tremonius and arrived at the outcrop above FOB Golf you go down to the fob and kill all the Banished.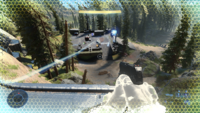 After there are no Banished left go to the FOB console.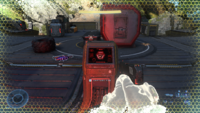 After the cutscene finishes use the console to get a Mongoose and travel to The Tower.
Next Mission
[
edit
]
The Next Mission Is The Tower, Click -> here <- for the walkthrough.