Fumirole
From Halopedia, the Halo wiki
Fumirole
Astrographical

System:

Atmosphere:

Hospitable

Societal

Species:

Colonized:

Government:

 
Fumirole is a human colony world that saw conflict during both the Insurrection and the Human-Covenant War.[2][3]
History
[
edit
]
Insurrection
[
edit
]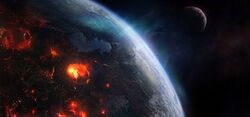 During the Insurrection, insurgent forces on Fumirole and Hellas, utilized rumbledrugs in a vainglorious attempt to fight Spartans. Unencumbered by the body's normal safety limits, rumbledrug users were capable of feats of enormous strength, but the subsequent lack of control and mental instability, combined with immediate physiological damage, often led to death long before the user ever laid hands on a Spartan. However, they could deal tremendous amounts of damage to themselves and anything that stood in their way.[2]
Human-Covenant War
[
edit
]
Fumirole became the site of a battle[4] in April 2552. On April 22, Catherine-B320 of SPARTAN Noble Team attempted to carry a Fury tactical nuclear weapon aboard the Covenant Ket-pattern battlecruiser Sanctity of Purification that was holding position over a city. She was wounded during her run toward the ship by a plasma blast from a Covenant Banshee, leaving her arm destroyed. Thom-A293, another member of Noble Team, took the nuclear device and flew inside the ship in Kat's place; after boarding the ship, Thom planted the bomb and attempted to escape. Unfortunately, the device detonated before he could evacuate the ship, successfully destroying the battlecruiser but killing Thom.[3]
A fumirole or fumarole is defined as an opening in a planet's crust that issues volcanic gases, perhaps indicating that Fumirole is a geologically unstable or volcanic world.
Gallery
[
edit
]
List of appearances
[
edit
]
Sources
[
edit
]