Elysium City
From Halopedia, the Halo wiki
Elysium City is an urban center located on the planet Eridanus II.
History
[
edit
]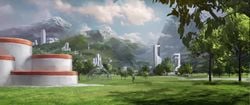 In 2513, M-EDF 9/21/1, commanded by Lieutenant Colonel Ponder, had an operation in Elysium City. M-EDF 9/21/1 was ordered by FLEETCOM to neutralize the second-in-command to the Insurrectionist leader, Colonel Robert Watts. Against FLEETCOM's insistence on a show of force, Ponder attempted to personally speak to family members of the second-in-command, when a M-EDF 9/21/1 sharpshooter took a hasty shot, completely collapsing the situation.[1]
Elysium City was also the city in which John-117 grew up, before he was chosen for the Spartan-II project and replaced with a flash clone. John originally attended school at Elysium City Primary Education Facility No. 119, where he met both Dr. Halsey and Jacob Keyes in 2517. The school had a substantial playground, including Gravball courts, and a grassy hill were John-117 played King of the Hill.[2]
In 2525, an insurrectionist attack on a nightclub resulted in the deaths of a number of innocent civilians as well as one Colonial Military Authority pilot, sending another into a coma. The resulting investigation into poor management and guarding of military equipment on the CMA's part would be one of the causes of the organization's downfall.[3]
Elysium City, along with the rest of Eridanus II, was glassed by the Covenant in 2530.[4]
By 2557, the city had been rebuilt to a certain amount, as Nova Austin Station offered flights to the city from Mindoro.
The city's law enforcement agency was called the Elysium City Law Enforcement.
Elysium has strong links with the trends of the Halo series, especially through its name. "Elysium" was a Latinization of the Greek word "Elysion," which meant paradise. In Greek mythology, the Elysium Fields were a series of areas where the virtuous dead could exist in happiness.
Gallery
[
edit
]
List of appearances
[
edit
]
Sources
[
edit
]