Stephen Scott
From Halopedia, the Halo wiki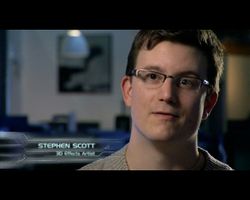 Stephen Scott, a.k.a. Scooter, is a Bungie employee who worked as a 3D effects artist on Halo 3.[1] He is referenced in the Terminal announcement Easter Egg.
One of the male speakers says over the train station announcement:
"The station cafeteria is now open. Today's specials feature Bentllama Burgers, Phlegm Brulee, and Scooter Pie."
Bentllama is the nickname for Bungie animator, Nathan Walpole
Phlegm Brulee is the nickname for storyboard artist, Lee Wilson
Scooter = Stephen Scott, Effects artist! [2]
Gameography
[
edit
]
Halo 2: Multiplayer Map Pack (2005), Microsoft Game Studios
Halo 2 (2004), Microsoft Game Studios
TransFormers (2004), Atari, Inc.
Men in Black II: Alien Escape (2002), Infogrames, Inc.
Mech Commander 2 (2001), Microsoft Game Studios
WarHeads SE (2001), Retro64, Inc.
MechWarrior 4: Vengeance (2000), Microsoft Game Studios
Space Race (2000), Infogrames
GP 500 (1999), Atari Interactive, Inc.
Dethkarz (1998), Melbourne House
Mech Commander (1998), MicroProse Software, Inc.
Norse By Norse West: The Return of the Lost Vikings (1997), Interplay Entertainment Corp.
The Dame Was Loaded (1996), Philips Interactive Media, Inc.
NBA Full Court Press (1996), Microsoft Game Studios
Choplifter III: Rescue Survive (1994), Extreme Entertainment Group
Radical Rex (1994), Activision Publishing, Inc.
True Lies (1994), Acclaim Entertainment, Inc.
Shadowrun (1993), Data East Corporation
Sources
[
edit
]