News
:
Halo News Network Issue 6 - Believing in us for 15 years
From Halopedia, the Halo wiki

Halo News Network
Issue 6: Believing in us for 15 years

Story by CIA391
November 4, 2019
Welcome everyone!
Hello everyone, and welcome to a very special "15th BIRTHDAY" (wowser has it really been 15 years of Halopedia!) issue of the Halo News Network. We have a lotta cool things to announce today. And a couple secrets for you lot to find. So lets get to it!
Like a Halo we go round with you!
To start off with, we'd like to thank you all for being here at some point in our 15 years of existing! It is your support that helps keep the wiki going, being the very commonly stated "backbone" of the Halo Universe. The readers, we thank you for sticking by us, we hope you learn something new with each click on the wiki. The editors, we appreciate all the help we get, from the littlest tweaks, to the TheEld sized edits, without you we'd be a lil less complete in more ways than just content.
Our Discord community also deserves a lot of praise, you lot are amazing, so many discussions on Halo, so many friendships made, so many ideas that we eventually pushed onto the wiki itself. Overall we absolutely love you all for being the most amazing community we have the pleasure to work alongside.
We'd also like to directly thank 343 Industries for giving us a chance after the Wiki merger, their support has helped motivate the wiki team make the wiki a better place for everyone. We also want to thank them for continuing to make experiences so we can all keep going on with our wiki project.
But most of all we'll thank the former team who are no longer with us, you all helped mold the community and wiki we in the current team help maintain, we will always be thankful for what you helped grow and care for.
Halopedia a quick peek into 15 years of lore
Now for those wondering how Halopedia started, it began as an idea to be the first Halo Wiki, opening its doors under the clan "blackboxrepublic" on November 4, 2004 with AgentSeeThroo as its host. This began the wikis growth throughout the years to eventually become Halopedia. To learn more we recommend giving this page a read: Halopedia:History.
Merger recap
Over the last year alone the wiki has made so many strides thanks to your support in the merger between Halopedia and Halo Nation. The mergers bigger team allowed for so much stuff to be done, two things you will see in the following sections, but to recap on stuff we have done already thanks to the expanded team roster.
We finally added the highly fan requested "Night" theme to our Nimbus skin that you can toggle via the moon in the top right hand corner.
We were able to successfully run our first book club.
We were able to focus a lot more on our social media platforms, with our Twitter having a lot of new things added to it since its inception like our #ScenicHalo.
Introducing the Halopedia website archives
If you have been keeping an eye on the wiki as of late you may have noticed we been focusing on something we dub the Halopedia Archive where we archive articles, interviews, and other important things relating to the Halo franchise. But there is one thing we felt that was missing from this, one thing that was really important for us to have accessible to everyone....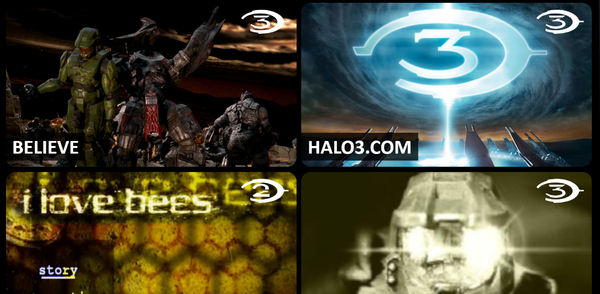 Over the years, many Halo websites and online resources have come and gone, often vanishing without notice or a trace. Their disappearance means the loss of irreplaceable information, valuable media and precious insights into the franchise's long and storied past. These archives represent Halopedia's attempt to preserve these websites and experiences, in the hopes that they may still be enjoyed by past and future fans alike in the years to come.
The below gallery is a list of what the current Archive has:
Now a lil information on the archive itself, Dab1001 created the main page of the site, while I made sure the sites archived worked. Halopedia would also like to thank Admiral Habor for his efforts on saving the files for some of the flash sites, as without them, some sites would have been lost forever.
The archive is an ongoing project and will be updated regularly to host a lot more websites (and other similar things) in the coming months, however if you have a request for a site to be added, please put forward a request in the Community proposals forum here and we will try to add that quickly to the archive.
With that said not everything will be perfect on the archives, there may be issues accessing some of the sites contents. Below is a list of issues you may experience on the sites.
Believe, Halo3.com, Jake Courage require a "Flash" compatible browser.
Xbox.com Jake Courage's "The photos" section was impossible to recover. Some of the photos and their lore however are currently on Halopedia on the Believe page.
The Xbox.com Halo 4 site is acting odd, we are looking into it to fix this issue.
Pre-Mission Evaluations require a "Silverlight compatible browser.
Pre-Mission Evaluations has issues with the main videos on the site, to compensate we have made a playlist of all the "Interviews" (even the parts that work) so you can still experience the lore as given in late 2009.
Introducing Onyx, a new skin for Halopedia!
Now I will pass you onto our team member Dab1001 who has been working on something totally awesome for all you folks that liked a particular style.
---
Hey, everyone! Today, I'm pleased to finally be introducing you all to a project of mine that's been in the works for more than half a year: Onyx.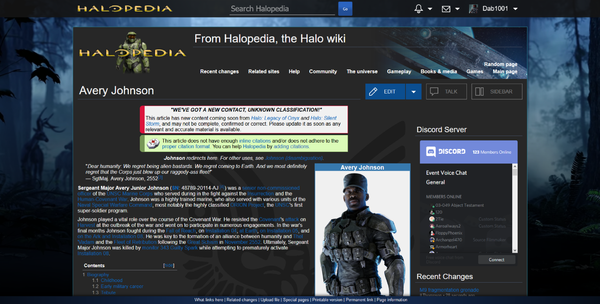 Onyx is an open-source MediaWiki skin (compatible with the latest versions of MW) which aims to recreate the appearance and layout of Oasis, the desktop skin used by Wikia/FANDOM. It is intended as an alternative skin for those who prefer Oasis to Nimbus (Halopedia's current default skin), and it aims to help ease the transition to Halopedia for former Halo Nation users.
Before continuing, I should preface that Onyx is not fully complete. I consider it to be in "early access", currently. Certain features of the skin, such as the search bar, are not yet finalised, and I'm sure there will be unforseen bugs (as well as a few that I already know of). If you have any suggestions, or find any bugs, please let me know here! Treat the current version of Onyx as you would one of the Halo: The Master Chief Collection flights - an early access test of unfinished code. However, the skin is still functional enough for day-to-day use, so please don't feel discouraged from using it as your main skin, if you wish to do so - I certainly will be! All that being said...
As of right now, Onyx is now available as an option to all Halopedia users! You can set it as your preferred skin using Special:Preferences, or if you'd just like to preview it, append "?useskin=onyx" (or &useskin=onyx if there is already a ? in the URL) to the end of any Halopedia page's URL. Onyx will be available permanently as an optional skin, but fear not: there are no plans to make it the default skin or to remove any existing skins - this isn't a repeat of what Wikia did with Oasis in 2010. If any such changes were ever made to the wiki, they would be put to a community vote first!
Though similar to Oasis visually, one of my priorities with Onyx was also to improve upon Oasis wherever possible. To that end, I have implemented many minor quality of life improvements, incorporated a number of useful functionalities from user-made extensions to the Oasis skin as native Onyx features, and included several customisation options that can be tweaked on both the wiki-wide and user-specific levels, to allow users personalise the skin as much as possible. Most notably of these changes, I have addressed the most common criticism I have seen of Oasis - that much of the screen is wasted by clutter and empty space, leaving the actual article content occupying a relatively small area - by increasing the total width of the page itself, reducing the size of the margins around the different page elements, and decreasing the width of the sidebar.
I would greatly appreciate feedback on all of these changes, and on the skin in general. Any suggestions people may have are more than welcome - just leave a reply to this thread, or contact me directly via the wiki, Discord or Twitter! I encourage everyone who uses the wiki to try it out and let me know what you think - even if you have no intention of using it in the long term - as I want to make this skin the best it can possibly be, and I can't do that without your opinions and criticism!
Before I end this post, I would be remiss not to express my gratitude to Jack Phoenix, without whom this project would have taken much, much longer - if it were finished at all. Her contributions and advice have been invaluable!
Apologies that it took so long, and I hope you all like Onyx :)
–

Dab1001 (talk • contributions)

TL;DR: A new, optional MediaWiki skin is available for Halopedia, titled Onyx. It is an improved recreation of the Oasis skin used by Wikia/FANDOM on their wikis. The skin can be selected as your personal default in Special:Preferences, and can be previewed on any page by adding ?useskin=onyx to its URL. All feedback, positive or negative, is welcome and appreciated, and I encourage you to try Onyx out and let me know what you think!
PS: Some of you who I have spoken to about this project on Discord or elsewhere may be wondering about the status of Onyx's companion project, Trevelyan. For those unaware, Trevelyan is a similar project, but for the mobile side of the wiki. It aims to recreate - albeit loosely - and improve upon Wikia's mobile skin, Mercury, and produce a mobile companion to Onyx that has feature parity with its big brother, in the hopes of providing a much improved experience for both reading and editing the wiki on the go. Though I had initially intended a simultaneous release, Onyx took an unexpectedly long time to develop due to a number of factors (chiefly, lack of familiarity with the language and MediaWiki API, and lack of time due to my own life getting in the way), and I didn't want to delay its release any longer. I'm not ready to give an ETA for Trevelyan yet, but I haven't given up on the project, so expect it some time in the future.
For those wanting a small peek into the behind the scenes of the birthday banner shown at the top of the page, here is how the background was developed. We started with the idea to showcase the wiki as it evolved. One of the best ways we could show this was by showing the navigation bar as it evolved over the last 15 years. We then retrofitted the "15" from the "official Halo 15th Birthday Gamerpicture" to a more fitting Halopedia yellow.
This version of the background proved the 15 can work but also showed the night theme didnt fit the style. (Image by CMDR RileySV)

This banner version was made by Haloprov. It showed the design we'd keep but tweek.
Thank you!
Again the Halopedia team would like to say thank you for 15 years of Halo, Lore, Spock, and of course you the Halopedians that read the wiki. Its you lot that help inspire us to keep doing this wiki, and we hope to keep giving everyone the information and community you lot want to be part off. Let make the next 5 years amazing shall we!
- CIA391 - Editor N' Chief