Halo: The Movies
From Halopedia, the Halo wiki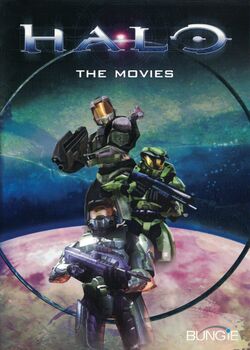 Halo: The Movies is a DVD produced by Bungie's Cinematronics Department in 2002, containing a compilation of media from Halo: Combat Evolved and Halo 2, in addition to pre-Xbox Halo gameplay footage and other extras. The DVD was distributed among Bungie employees exclusively and never sold in stores.[1]
Official summary
[
edit
]
"
In your undeserving hands you hold a shiny digital repository of all the Halo cinematic goodness your feeble mind can tolerate — and then some.

THIS DVD IS NOT FOR SALE!! You aren't allowed to make duplicates of it or we will find you and summarily kick your ass.

If you whine about it, we'll make sure to talk about how big a wuss you are in all our meetings and on our website and we'll even tell your Mom.

So, hey, we hope you like this DVD collection! ANABJP

"
Content
[
edit
]
Cutscenes

[

edit

]

Trailers

[

edit

]

E3 2000 teaser.
NVIDIA promo.
Wazzup spoof.
Fanfest 2001.
Demo disk promo.

Dolby Surround test.
Ancient Halo.
Attract movie 1.
Attract movie 2.
Attract movie 3.
You lose.
Sgt. Johnson pep talk.
Alternate Halo extractions.
Gallery
[
edit
]
Sources
[
edit
]