'sKelln
From Halopedia, the Halo wiki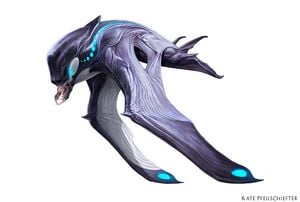 The 'sKelln is a leathery, winged aerial predator native to Sanghelios, the homeworld of the Sangheili.[1] The 'sKelln are strong and majestic predators, and are capable of astonishing speeds and insatiable appetites.[2] Known to be voracious and cunning, 'sKelln stalk the skies hunting for prey in the mountains of Sanghelios.[3][4]
In antiquity, the sky-chevaliers would fly on the backs of 'sKelln and use them on hunts.[3] The Uztet'sKelln attack-fighter was based on and named after the animal, with its successors following a similar design.[5] The biomimetic aesthetic of the D'nomlhe-pattern Banshee is considered to bear particular resemblance to the 'sKelln.[6] The Banshees utilized by the Banished have been twisted from their 'sKelln inspiration to closer resemble an aerial predator from the Jiralhanae homeworld of Doisac.[7]
Gallery
[
edit
]
Concept sketches of the 'sKelln for the Halo Encyclopedia, showing various inspirations for the creature's design.
List of appearances
[
edit
]
Sources
[
edit
]