Nomolos Refining
From Halopedia, the Halo wiki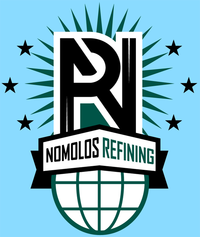 "Investing in New Mombasa's future!"
— From an ad of Nomolos Refining in New Mombasa.
Nomolos Refining is a human oil refining company.[1]
History
[
edit
]
In 2552 Nomolos Refining owned a tower in the city of New Alexandria, Reach, called Nomolos Tower.[2]
In 2556 Nomolos Refining was one of several corporations "Flagged for Review" by ONI after the Sedra terrorist attack.[3]
Facilities
[
edit
]
The company had facilities in the following cities and locations:
Reversing the letters in Nomolos becomes Solomon. It is unclear how this name was significant to Bungie, but it's most likely the origin of Nomolos.
Gallery
[
edit
]
List of appearances
[
edit
]
Sources
[
edit
]