Longshot sight
From Halopedia, the Halo wiki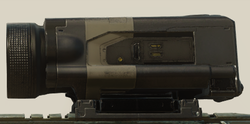 The Longshot sight is a telescopic sight in service within the United Nations Space Command.[1]
Information
[
edit
]
Overview
[
edit
]
The scope has a range finder, and ammo counter.[2]
Known applicable weapons
[
edit
]
The following weapons have been seen to utilize this attachment:
BR85N Service Rifle: This is the Marksman configuration preferred by many Requiem veterans.[3]
MA5D assault rifle: This is the UNSC Marine Corps Interim Fireteam Support (IFS) configuration for intermediate-range combat and long-range suppression.[1]
Service history
[
edit
]
On December 13, 2553, Frederic-104 utilised a MA5D assault rifle, where he stripped the weapon down for close-range engagement by removing the initially equipped Longshot sight and sound suppressor.[5]
Gallery
[
edit
]
Concept art
[
edit
]
Halo 5: Guardians
[
edit
]
List of appearances
[
edit
]
Sources
[
edit
]
^ a b Halo 5: Guardians, Requisitions, Loadout, Longshot AR
^ Halo 5: Guardians, While scoped
^ Halo 5: Guardians, Requisitions, Loadout, Longshot BR
^ Halo 5: Guardians, Requisitions, Loadout, DMR
^ Halo: Retribution, Chapter 14