Paul Bertone
From Halopedia, the Halo wiki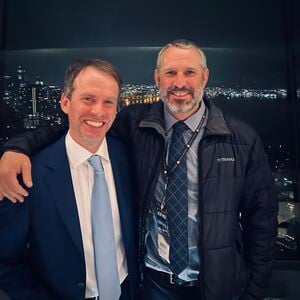 Paul Bertone, Jr. is a technical design director at 343 Industries. Bertone was also a senior employee and game designer at Bungie, ending his career at the company as a design director in January 2012.[1]
Born in Bellingham, Massachusetts, Paul Bertone was a paratrooper in the United States Army, and also went to school at University of North Carolina at Charlotte for engineering. During some of this time, Bertone played the games Myth: The Fallen Lords and Myth II: Soulblighter, where he was the captain of the prestigious and well-renowned team, Civil Order. After placing 1st in many tournaments, Bertone, aka "Ruiner," became employed by Bungie Studios circa 2000. He served on the design team for Halo: Combat Evolved, and was promoted to design lead for Halo 2.[2] He became the lead mission designer during Halo 3's development, scripting and designing the first mission of the game.[3] Eventually becoming design director, Bertone left Bungie in January 2012.[1]
By August of that same year, Bertone was picked up as design lead at Industrial Toys, a mobile game developer located in Pasadena, California. After nearly three years here, he was self-employed as a design director for two years before becoming a design director at Undead Labs in 2017. After six months in this position, Bertone moved on as a design director Probably Monsters, another game design studio. Working here for two years, Bertone became a freelance design director until he joined Highwire Games, a game development studio founded by former Bungie composer Martin O'Donnell. Bertone worked at this company as design lead for two years. Then, in June 2022, he returned to the Halo series and joined 343 Industries as technical design director.[1]
Gallery
[
edit
]
See also
[
edit
]
Sources
[
edit
]