Joseph Staten
From Halopedia, the Halo wiki
This article is about the writer and cinematics director. For other people with the same name, see
Joseph (disambiguation)
.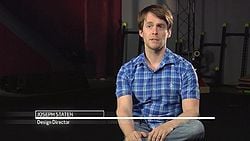 Joseph Michael Staten was the Head of Creative at 343 Industries.[1] Staten was the former head writer/cinematic director at Bungie Studios. He started working at the studio in 1998 and left on September 24, 2013[2] for Microsoft Studios, where he worked as a senior creative director.[3]
Background
[
edit
]
A graduate of Northwestern University's Theater Department,[4] Staten served as the cinematic director and writer for the Halo titles under Bungie's development, developing the missions and cinematics scripts. He also authored two Halo novels, Halo: Contact Harvest and later Halo: Shadow of Intent. Following Bungie's departure from the Halo franchise in 2010, Staten continued working with Bungie as the designer/story-writer for Destiny. He left Bungie on September 24, 2013 to "tackle new creative challenges".[2]
On January 9, 2014, it was announced Staten has joined Microsoft Studios as senior creative director, taking part in the creation and management of Microsoft's intellectual properties and managing the studio's relationship to the game development community. However, he was not directly involved with the development of Halo 5: Guardians.[3] On March 12, 2015, it was announced that Staten would write the Halo digital novella Halo: Shadow of Intent,[5] which was released on December 7, 2015 and was rereleased physically on September 20, 2016 as part of the short story anthology Halo: Fractures.[6] In a June 2015 interview, Frank O'Connor mentioned that Staten "has no official role with Halo" but that he "begged" Staten to write the short story and do the director's commentary for Halo 3: ODST included in the game's Halo: The Master Chief Collection release. Beyond this, however, O'Connor stated that Staten would not be involved with Halo "unless we manage to convince him otherwise".[7]
Staten is one of the voice actors for the Grunts in the original Halo trilogy. He also voiced the Superintendent in Halo 3: ODST. He reprises his role as some of the Grunts in Halo 5: Guardians, most notably Dimkee Hotay.[8][9]
On August 26, 2020, it was announced Staten joined the Halo Infinite development team as campaign's project lead.[10] Staten also voices Glibnub and the Superintendent in Halo Infinite.
Staten left 343 in late 2022/early 2023 to join Xbox Publishing.[11] On April 7, 2023, Joseph Staten announced he would leave Microsoft,[12] joining Netflix Games to work on a new IP.[13]
Sources
[
edit
]
External links
[
edit
]