Halo Wars Limited Edition
From Halopedia, the Halo wiki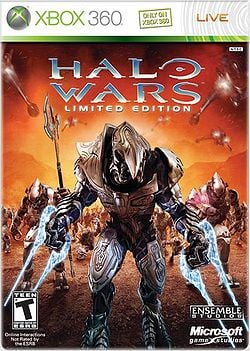 The Halo Wars Limited Edition is a retail version of Halo Wars, which includes items not featured in the standard version.[1] The cover depicts the Arbiter, who is the Covenant commander in the game, flanked by two Sangheili guards and followed by a massive formation. If the cover is flipped, the backside of the case is identical to the front of the regular edition of Halo Wars, with three Spartans backed by a large UNSC force of marines, vehicles, and aircraft of varying types.
Contents
[
edit
]
Purchase of Halo Wars: Limited Edition comes with the following:
Halo Wars game disc inside a special metal two-sided case.
Halo Wars: Genesis, a graphic novel and prequel to the game, based on the first military campaign against the Covenant.
Mythic Map Pack, the Halo 3 map pack which consists of Assembly, Orbital, and Sandbox. They are included as a one time only code for the player to use to get the maps from the Xbox Live marketplace for free.
6 Leader cards, which show target and personnel information on all six UNSC and Covenant leaders (three leaders for each faction): Captain James Cutter, Sergeant John Forge, Professor Anders, the Prophet of Regret, The Arbiter and the Brute Army Commander.
UNSC Spirit of Fire embroidered ship emblem patch. (It is actually a rubber emblem of the Spirit of Fire.)
The Honor Guard Wraith, a special in-game item, used by the Honor Guard of the Covenant.
A special, in-game item M12 Chaingun Warthog, painted in the exclusive Fireball Warthog variant and is only available to those that pre-ordered Halo Wars before the game's actual retail release dates.
The Halo Wars: Limited Edition from Gamestop, comes with a hint book for the second level of Halo Wars from the Prima Guide shipped with the game.
Regional issues
[
edit
]
If one buys the LCE in a country in which Xbox Live isn't available, it is impossible to get the Mythic Map Pack, Honor Guard Wraith, and the 48 Hour Gold Trial. This is due to the fact that all this requires the player to go on Xbox Live, which in those countries is unavailable.
Gallery
[
edit
]
Covenant leader profiles
[
edit
]
UNSC leader profiles
[
edit
]
Sources
[
edit
]