Hub
:
Halo 3/Ancillary
From Halopedia, the Halo wiki
Ancillary media
While Halo 3 can be enjoyed standalone, a number of expanded universe elements also exist that help expand upon the story and fill in the gaps from Halo 2.
---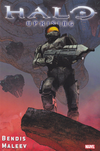 Halo: Uprising
Halo: Uprising picked up where Halo 2 left off, and bridges the gap between that game and the opening of Halo 3. The four-part comic series details the Master Chief's attempts to pursue the Prophet of Truth aboard the Keyship, while also providing a glimpse into the ongoing battle for Earth, focused on Ruwan Ackerson and the Covenant invasion of Cleveland.
Learn more about Halo: Uprising →
---

IRIS
IRIS is an alternate reality game created and run in the buildup to Halo 3, detailing the Forerunner AI Adjutant Reflex and the ultimate downfall of the Forerunner civilization 100,000 years ago. The ARG has deep ties to the Terminals and included the release of the one-off webcomic Halo 3: The Cradle of Life. The Halopedia archive maintains archives of the original IRIS website, which can be viewed here.
---

Halo 3: ODST
Halo 3: ODST is a standalone game released in 2009 - two years after Halo 3 - and built on the Halo 3 engine. Despite this, Halo 3: ODST is a prequel story set during the events of Halo 2, following the actions of a squad of Orbital Drop Shock Troopers fighting in New Mombasa. The game helps bridge the gap between Halo 2 and Halo 3, showcasing the fighting on Earth outside of the Master Chief's perspective.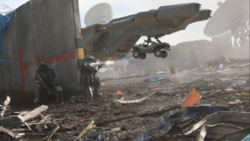 Halo: Landfall
Halo: Landfall is a series of live-action short films created by Neill Blomkamp and WETA Workshop to market Halo 3. Divided into three shorts; Arms Race, Combat and Last One Standing, the series depicts a Misriah Armory munitions factory on Mars and the actions of several Orbital Drop Shock Troopers during the Battle of Sector Six on Earth, taking place simultaneously with Halo 3's opening.
Learn more about Halo: Landfall →
---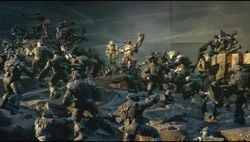 Believe
Believe was a marketing campaign conducted for Halo 3, comprising of a number of trailers and other advertisements - many of which framed as in-universe interviews with veterans and survivors of the war with the Covenant. Most notably, the Believe campaign created a massive diorama depicting a huge battle between UNSC Marines and Covenant Brutes, culminating in the depiction of the Master Chief captured by a Brute Chieftain. The old Believe website, while now defunct, is now available to view in its entirety thanks to the Halopedia archive, and can be viewed here (Flash player required).
---