Curtis Schweitzer
From Halopedia, the Halo wiki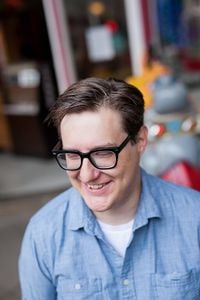 "There have been tear-inducing, hair-raising, and spine-tingling moments each time we have listened to his inspired compositions."
Curtis Schweitzer is an American composer based in Colorado who is known for his work on the E3 trailer Discover Hope and for co-composition of the music of Halo Infinite, alongside Gareth Coker and Joel Corelitz.[2][1]
Biography
[
edit
]
Freelance composer
[
edit
]
Curtis Schweitzer has been composing music for most of his life,[2] having contributed work towards companies such as AudioJungle and Pond5. He has also created orchestral, cinematic music for trailers, film, and television. Over the years, Schweitzer has composed for multiple indie games such as Starbound, Staxel, Interstellar Rift, and Airships: Conquer the Skies as well.[3] Additionally, Schweitzer has been a Halo fan for a large portion of his life, and has played almost every Halo title. Schweitzer has stated that he has likely spent the most time in Halo 3, as it came out during a formative part of his life. As such, "Never Forget" has become one of his all-time favorite Halo tracks.[2]
Composing for Halo

[

edit

]
"Music is such a critical part of understanding the success of the Halo franchise, and a big reason that the games have such a deep emotional impact."
— Curtis Schweitzer, reflecting on the music of Halo[2]
In 2019, during the development of Halo Infinite, 343 Industries' music supervisor, Joel Yarger, reached out to Curtis Schweitzer, asking if he would be interested in joining the project. Schweitzer responded with an immediate "yes."[2]
After joining the project, Curtis Schweitzer was brief by Joel Yarger on how to write music for the ring itself, using the Halo Theme as a base. Schweitzer has stated that the game's music was created so that it hit the important Halo feelings of ancient, epic, and mysterious which were pioneered back in the series' very first games.[2] One of Schweitzer's tracks that required the most work was "Reverie," due to its prominent feature in the Discover Hope trailer.[2][1] He stated that number of people who put in time and effort into perfecting the work he did for that trailer was mind-boggling. The process of putting the track together required every moment to be refined, with Schweitzer's personal favorite being the choir that plays during "ring reveal" segment of the trailer. He noted that he never saw a "complete" version of the visuals of the trailer until he was sitting in the Xbox briefing at E3.[2]
Sources
[
edit
]