Xbox LIVE
From Halopedia, the Halo wiki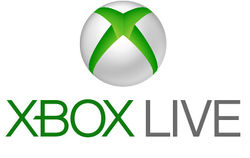 Xbox Live (trademarked and formerly marketed as Xbox LIVE) is Microsoft's online subscription service used to play supported games via internet, using the consoles as servers for multiplayer matches, instead of a dedicated server system. There are two types of Xbox Live memberships: free and Gold. Free accounts allow players access to online content and applications. Gold memberships cost money but include additional features, most notably the ability to participate in online multiplayer. Players are also eligible for additional programs and exclusive content including Xbox Music, Internet Explorer, and free games through the Games with Gold program.
Xbox Live Gold subscriptions run for about USD $50.00 and CAD $60.00 a year. In the United Kingdom, a standard subscription costs about £35 a year. In Australia, subscriptions are approximately $90.00 (AUS) for both Xbox and Xbox 360, and in New Zealand, 80-90 NZD, depending on the retailer. Purchasing one month at a time typically costs between $5 and $10 per month in Canada and the USA.
Originally released in November 2002, one year after the original release of the Xbox, Xbox LIVE was originally made popular by such games as Rainbow Six 3 and MechAssault. Over one million new users created accounts when Halo 2 was released, and it became the mainstay of Xbox LIVE, even with the onset of the Xbox 360. Usually, the maximum number of players is 16 or less for original Xbox games. Xbox LIVE support for original Xbox games and software, including ones playable on the Xbox 360, was discontinued on April 15, 2010.[1]
Features
[
edit
]
In addition to multiplayer, Xbox Live can be used for downloading content such as new levels and maps. This feature is much more versatile on the Xbox 360 (you can download non-gaming files), because of Microsoft's push to make it a multimedia machine. All of Halo 2's Multiplayer Map Packs could have been downloaded for free. Gamerscore are achieved by unlocking "Achievements", which are awarded for accomplishments in any 360 game.
Notable Halo-related features include avatars for which players can unlock or purchase items online, the Halo Waypoint multimedia hub, and downloadable themes, picture packs and additional DLC.
Windows
[
edit
]
On Windows 7 and earlier PC and mobile platforms, the linked service Games for Windows - Live serves a function largely identical to Xbox Live. Players can utilize the same profile on Windows and Xbox, combining their Gamerscore from both platforms. With the release of Windows 8 in 2012, Games for Windows was incorporated into the Xbox brand. As a result, games released on Windows 8 and Windows Phone 8 bear the Xbox logo. For example, Halo: Spartan Assault bears the branding "Xbox Windows", rather than the "Games for Windows" branding found on Halo 2 for Windows Vista.
Statistics
[
edit
]
As of June 2006, players had spent over 2.3 billion hours playing over Xbox LIVE. A major portion of that time was spent on Halo 2, by far the most popular title on Xbox LIVE with over 710 million hours spent on it alone, adding up to over five hundred million games. By May 2007, that number rose to five million Halo 2 players on Xbox live, with 700 million total games of Halo 2 played on Xbox LIVE (not including guests).[2] By the beginning of 2008, Microsoft announced that they had over eleven million unique subscribers on Xbox LIVE. On February 5, 2010, Marc Whitten announced that Xbox Live had reached 23 million members. In February 2013, Yusuf Mehdi, corporate vice president of Microsoft's Interactive Entertainment Business, shared that Xbox LIVE members now number 46 million, up 15 percent from one year previous.[3]
When Bungie.net stopped record-keeping on March 31, 2012, they reported that players had spent a combined 2,060,196,113 hours (235,182 years) playing Halo on Xbox LIVE.
Gallery
[
edit
]
Sources
[
edit
]
Related links
[
edit
]
Internal
[
edit
]
External
[
edit
]