Iruiru
From Halopedia, the Halo wiki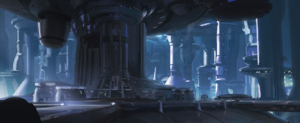 Iruiru is a region on the continent of Yermo, on the Sangheili homeworld of Sanghelios.[2]
Overview
[
edit
]
Topography and ecology
[
edit
]
The regions west features tombolo clusters.[3]
Locations
[
edit
]
Western tombolo clusters[3]
History
[
edit
]
Blooding Years
[
edit
]
Main article: Blooding Years
The regions war college was destroyed sometime between 2553 and 2555 during the ongoing civil war that embroiled Sanghelios.[4]
Government and society
[
edit
]
The Iruiru region was a prominent part of the Sangheili military bastions of Yermo,[4] where it contained a military manufacturer Iruiru Armory,[3] and according to Usze 'Taham the most notable war college of their people.[4]
Iruiru is the name of an area in the Solomon Islands.
List of appearances
[
edit
]
Sources
[
edit
]