Christian Allen
From Halopedia, the Halo wiki
For more uses of the name Allen, see here.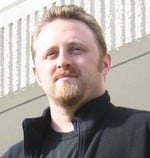 Christian Allen is an American game designer. He was born in Eagle River, Alaska.[1]
He worked at Bungie Studios as Design Lead on Halo: Reach. [2]
Biography
[
edit
]
Allen grew up in Eagle River, Alaska. After high school, he joined the US Marines, where he served four years in the United States Marine Corps Military Police, mainly at MCAS El Toro.[3].After finishing his tour in the Marine Corps in 1999, Allen returned to Alaska, serving in the Air National Guard with the 176th Security Police, and working for the State of Alaska as a Child Support Enforcement Officer. Later, he went to work IT & Communications for the Department of Emergency Services.
Christian started making mods for the Rogue Spear series in 1999; and in 2001, he decided to make a career change and get into the gaming industry. Allen moved from Alaska to Arizona, and attended the Art Institute of Phoenix. During this time he also joined the Army National Guard, serving with the 855th Military Police Company.
In 2002, Allen was hired by Red Storm Entertainment/Ubisoft Entertainment as an Assistant Game Designer. Since then Allen has worked on a variety of military-themed first person shooters, in a variety of rolls, from Scripting to Weapon Design to Lead Designer to Creative Director.
In 2006, Allen completed his B.S. in Game Art and Design through the online program of the Art Institute of Pittsburgh.
In August of 2007 he accepted a position at Bungie in Kirkland, WA. [4]
As of April 2009 Christian Allen has left Bungie Studios.
After leaving Bungie, Allen applied to be on the TV series Survivor.[5]
Internal Links
[
edit
]
Sources
[
edit
]