Terminal (Halo 2: Anniversary)/One
From Halopedia, the Halo wiki
ONI File: Target Profile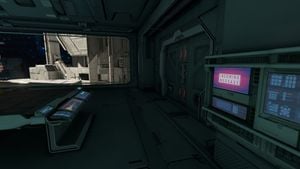 Campaign level: Cairo Station
The terminal is one of the computer consoles located in Cairo Station's Armory A-01, on the wall to the left of the doors leading into Commons B-01. The console's screen flashes "INCOMING MESSAGE" in red.
---
SUBMIT SECURITY CREDENTIALS:
SPARTAN-117
IDENTITY CONFIRMED
ACCESS GRANTED
TARGET PROFILE:
THEL 'VADAMEE, SUPREME COMMANDER
COVENANT FLEET OF PARTICULAR JUSTICE
TARGET VALUE: ALPHA
REPORT COMPILED BY LT. COMMANDER JAMESON LOCKE
The view pans around a wireframe hologram of the Arbiter as Locke narrates.
Locke: "Pursuant to Office of ONI Retrieval and Acquisitions inquiry of 26 September, 2552, the following is a target profile of Thel 'Vadamee, Supreme Commander of the Fleet of Particular Justice, compiled by Lieutenant Commander Locke."
The view changes to a small Covenant shuttle docked at a gangway in The Rubble.
Locke: "First confirmed contact with 'Vadamee came in 2535 on an unofficial human colony known as The Rubble. After-action reports from civilians, as well as Spartan units 006, 111, and 120 suggest that 'Vadamee was at that point a relatively minor functionary of the Prophet of Regret."
'Vadamee stalks through passages aboard the Infinite Spoils, when a shadow flits across the foreground. He readies his energy sword as Jai-006 rushes him, tackling him to the ground. Jai attempts to train his rifle on 'Vadamee's head, but 'Vadamee bends the barrel. Jai tosses the weapon away and takes out his combat knife. The two briefly grapple, and 'Vadamee headbutts Jai. Another Elite arrives and begins firing upon Jai, who gets up and retreats.
The scene changes to space in orbit around a glassed planet, where human forces attack the Fleet of Particular Justice with Longswords.
Locke: "Spartan-006 engaged 'Vadamee in combat. Both parties survived the encounter. Shortly after 2535, the UNSC first encountered the newly-formed Fleet of Particular Justice, now led by 'Vadamee."
A Longsword flies by an assault carrier, and is fired upon by a pursuing Seraph. The Longsword is hit and loses control, glancing off the hull of another assault carrier.
Locke: "Review of early engagements with this fleet show that it quickly grew in size from five to nearly sixty ships, as 'Vadamee cut a path through many human systems."
Two MAC platforms in orbit around a planet attempt to fend the fleet off, but each are hit with a plasma charge, which shatters the stations.
Locke: "ONI Section 3 made multiple attempts to anticipate, or even track 'Vadamee's movements, at the cost of a number of operatives' lives."
A Ket-pattern battlecruiser speeds through space, under fire from two Marathon-class heavy cruiser and one Stalwart-class light frigate. Two Ket-pattern battlecruisers and one CAS-class assault carrier drop out of slipspace. The carrier burns into the human ships with their energy projectors.
Locke: "'Vadamee eluded all such efforts and he continued his unpredictable and devastating campaign. 'Vadamee also stands out from other Covenant commanders in the frequency in which he takes a personal role in ground assaults."
'Vadamee throws the dead body of a UNSC Marine to the ground and roars.