Terminal (Halo: Combat Evolved Anniversary)/Four
From Halopedia, the Halo wiki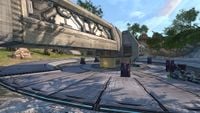 Campaign level: The Silent Cartographer (video-guide)
The fourth terminal is located against the Marathon-symbol-shaped structure near the center of the island where the first Hunter pair is fought, on the circular part and beneath the "bridge".
---
| | | |
| --- | --- | --- |
| " | After a thousand years, the excitement of maintaining a galactic superweapon starts to wear thin. | " |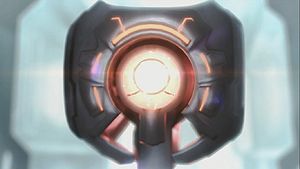 [044657.04.21.21.34.56]
Guilty Spark is observing a hologram of the Halo Array.
343 Guilty Spark: "Entropy. It has now been 3,000 years since my last contact with any of the other caretakers of the Halo Array. Despite clear communications protocol, my fellow monitors have either chosen to ignore - or, more likely, have lost the ability to engage in our scheduled updates. The continued lapse of the Domain means that we're stuck with achingly slow wormhole superluminal communications."
A hologram projector is activated, showing a recording made by 2401 Penitent Tangent.
343 Guilty Spark: "Prior to this total communications shutdown, the only messages I received in the preceding 4,573 years were incomplete and quite perplexing transmissions from Installation 05."
Guilty Spark is shown speeding down an underground tunnel. Molten lava flows below.
343 Guilty Spark: "I suspected that monitor 2401 Penitent Tangent was not functioning correctly for some time before his messages ceased."
Guilty Spark is shown floating through another room.
343 Guilty Spark: "I have logged my concerns about his ability to perform his duties. At this point, however, I am not sure who I file logs for. 2401 may be destined for madness. There are failsafes for this, I know... I hope they work."
343 Guilty Spark: "I will continue to visit the projection systems at the assigned dates. Perhaps the other monitors are dealing with interfering galactic phenomenon, or unexpected system failures."
Spark floats toward a projection platform.
343 Guilty Spark: "Three thousand years of system failures, indeed..."
Spark floats through a Flood containment facility. A Flood combat form is contained in a biological storage tank.
343 Guilty Spark: "In the mean time, I've exhausted all scheduled research activities assigned by the Council. Once those experiments were complete, I shut down all Sentinel function and put myself into a state of significant hibernation to measure performance of the Installation with - negligible - upkeep..."
Spark enters a small alcove, and slowly shuts down. Fade to black.
EXTENDED HIBERNATION
MAINTENANCE CHECK AT 1000 CYCLES
EXCEPTIONS WILL BE RAISED FOR MAJOR AND PROFOUND EVENTS
SYSTEMS NOMINAL
HIBERNATION CYCLES: 2
MINOR EVENTS: 23
MAJOR EVENTS: 0
PROFOUND EVENTS: 0
343 Guilty Spark: "After 150 years with no noticeable impact upon Installation systems or integrity, even in hibernation I became...bored."
Spark reactivates, but his eye color flashes back and forth between blue and red - an early sign of rampancy.
343 Guilty Spark: "This was quite routing, as I was led to believe that I was not capable of such a state. This was one of the gifts I was promised... an end to strife."
Spark is shown floating above a river. A serene field of grass rocks back and forth with the wind.
343 Guilty Spark: "I am aware of the dangers of a system such as myself losing operational focus. Quite troubling. I wonder if my fellow monitors are experiencing similar states... or if this is because of my particular path to this Installation."
343 Guilty Spark: "For amusement, I have begun a series of experiments involving the evacuation of all matter from contained sections of my Installation."
A forest is shown, with several Forerunner structures built next to a river. The entire forest is suddenly sucked out into space.
343 Guilty Spark: "By measuring the geologic effects of exposure to the vacuum of space and the eventual biological recovery of these sections, I anticipate gaining valuable insight into emergency response scenarios in case of-"
SENTIENT PROXIMITY WARNING
VESSEL INCOMING
A yellow flash can be seen heading towards the Installation, as an unknown vessel enters its atmosphere.