Project BLACKBALL
From Halopedia, the Halo wiki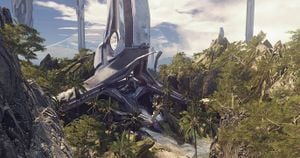 Project BLACKBALL refers to a series of simulated environments crafted by the Office of Naval Intelligence Section Three's top War Games team. These highly classified simulations are used to train both military and scientific personnel who are to operate on known or recently discovered Halo installations.[1]
Simulated environments are created in accordance with research archives and environment scans from Installation 03, Installation 05, and supposedly Installation 04 before its destruction. As such, these locations are a composite of specific areas and facilities of interest, such as the Library or the Cartographer.
In the Warzone simulation, Spartan-IVs are trained to assault and defend specific sites, and fight against both Forerunner and Covenant AI opponents. Such a Project BLACKBALL location includes Apex 7, the site of the Warzone simulations "Raid on Apex 7" and "Array". It is situated on a typical tropical island on the surface of Halo, with a Forerunner spire in the island's center. It is distantly inspired by a historical scenario.
List of appearances
[
edit
]
Sources
[
edit
]