Main Page/Improvement
From Halopedia, the Halo wiki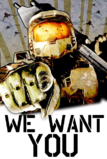 Article Improvement Drive is a community project to improve the wiki's content through bringing articles in dire need of improvement—from cleanup to content expansion and updates—to everyone's attention. Anyone is welcome to participate in the project!
A small sampling of articles in need of new content:
The following articles for Halo media could use the addition (or completion) of a plot synopsis:
---
See the
AID project page
for more information!