John Michael Higgins
From Halopedia, the Halo wiki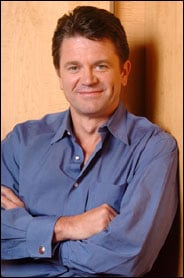 John Michael Higgins (born February 12, 1963) is an American actor and voice artist, perhaps best known for his work in Christopher Guest's mockumentaries and the role of David Letterman in HBO's The Late Shift.
Recently, Higgins has gained more recognition by being featured in trailers and TV commercials for Fun with Dick and Jane and The Break-Up. His work as a voice actor includes the role of Judge Mentok in Harvey Birdman, Attorney at Law and the Riddler in Batman: The Brave and the Bold.
In the Halo series, he played the Forerunner monitor 05-2401 Penitent Tangent in Halo 2.
External links
[
edit
]