Adrian Perez
From Halopedia, the Halo wiki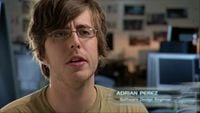 Adrian Perez is an American bibliographer and programmer. Born in 1982 and raised in Berkeley Heights, New Jersey, he claims to be of Cuban descent, but this cannot be confirmed. He is currently an employee of Bungie Studios.
He was hired in 2001, two months before the completion of Halo: Combat Evolved. One of his only contributions to Halo: Combat Evolved was writing the loading screen. He was also credited as a "Multiplayer programmer." He then continued his work on Halo 2 as an engineer.[1] He is assumed to have worked on Halo 3.
It is possible that Corporal Perez was named after him, as his drawing on Bungie.net resembles Corporal Perez, but this is not a photograph, so it is not known for sure.
His favorite gametype is CTF on Longest.
See also
[
edit
]
Sources
[
edit
]