Lars Bakken
From Halopedia, the Halo wiki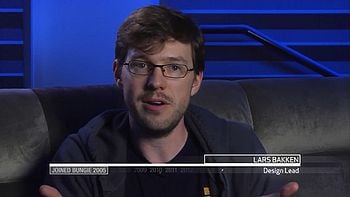 Lars Bakken is a gameplay designer at Bungie. He was the Multiplayer designer of Halo 3, his first game with Bungie.[1] He was working on Halo: Reach as co-op lead.[2]
Note: Only including Bungie games
Bungie.net Profile
[
edit
]
Nickname: Thug
Classification: OldSkool
Current Job: Multiplayer Designer
Origin: Honolulu, HI
Blood Type: Classified
Age: Classified
Weight: Classified
Height: Classified
Girth: Classified
First Job: Dish Dick (Dishwasher)
Hobby: Hanging out
Ultimate Halo Match: Rockets on Hang 'Em High
Ultimate Snack: Pizza
Ultimate Website: http://www.urbandictionary.com/
Mode of Transport: Classified
Fake Weapon: De-Pantster
Biography: Originally born in Hawaii while his father was stationed in the Navy, his family moved shortly thereafter to a small town in Iowa. After completing college at the U of I, he made the "career move" to San Francisco to try and make games for a living. His friends laughed at him in disbelief and his parents cried… but now he works at Bungie and plans to help them in their bid for world domination. Now they laugh and cry for different reasons.[3]
Sources
[
edit
]