Kenneth Scott
From Halopedia, the Halo wiki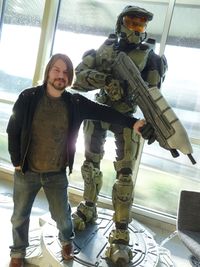 "Obviously this is a big change for our team and we are going to miss having Kenneth here in the building with us. Ken is a founding member of 343 Industries and working with him on Halo 4 was one of the highlights of my career. He was my creative partner and brother-in-arms for many years, and through his vision we managed to establish a bold new look for the Halo universe. He was also instrumental in building the amazing team of artists that we have here at 343 today."
— Josh Holmes, on Kenneth Scott's legacy as Senior Art Director.[1]
Kenneth Scott is a Visual Design Consultant for 343 Industries and was formerly the company's Senior Art Director.
He is from Calgary, Alberta, received his education at The Alberta College of Arts + Design, and currently lives in Seattle, Washington.[2] He is married to Corrinne Yu, who also formerly worked for 343 Industries as a programmer.[3]
Before joining Microsoft Studios, Scott previously worked as a character artist at Ion Storm Inc. from 1996 to 1998 and as an art director at id Software from 1998-2008, contributing to such projects as Daikatana, Anachronox, Quake III Arena, Doom 3, and Quake 4.[4] He joined Microsoft in 2008, helping to form 343 Industries' art department, where he served as Senior Art Director until 2014. As Senior Art Director, he helped to develop Halo 4 and worked on the initial stages of Halo 5: Guardians.[5] In addition, Scott wrote the forward to Awakening: The Art of Halo 4, and contributed artwork to Halo: Initiation, Halo: Escalation, and Halo Mythos. After leaving 343 Industries he continued to contribute in a consultant capacity; he also began working at Oculus VR as Art Director in 2014.[6]
Gallery
[
edit
]
Sources
[
edit
]
External links
[
edit
]