Justin Hayward
From Halopedia, the Halo wiki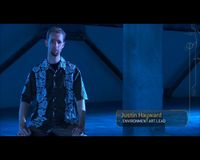 Justin Hayward is one of the members of the Bungie Staff and has worked on Halo 3 [1], Halo 3: ODST[2], and Halo: Reach[3].
Information
[
edit
]
Nickname: The Velvet Kabob
Classification: OldSkool
Current Job: Artist - environments and effects
Origin: Classified
Blood Type: Classified
Age: 32
Weight: Santa Cruz, CA
Height: Classified
Girth: Classified
First Job: Senior Chief Lawn Maintenance Technician
Hobby: Classified
Ultimate Halo Match: Halo
Ultimate Snack: Assorted small South American marsupials
Ultimate Website: http://www.dowsers.org/
Mode of Transport: Classified
Fake Weapon: Classified
I've been told I'm sagacious, but my friends say I'm adroit and perspicacious. Family and friends are very important to me. I enjoy getting dressed up for a night on the town, but also like hanging out in sweats and watching a movie.
Sources
[
edit
]