Zune - Halo 3 Edition
From Halopedia, the Halo wiki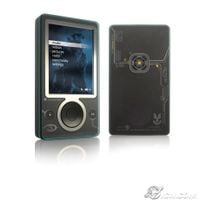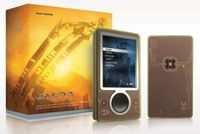 The Halo 3 Zune was a promotional Zune 30 released as part of the marketing campaign for Halo 3. The limited edition Zune features Halo content in many media formats. Preloaded on to the Zune, are trailers, music, and artwork, from across the series - predominantly from Halo 3.[1] The special edition Zune was available for purchase at GameStop from June 15, 2007[1], with a special "Military Edition" later made available exclusively for members of the US Armed Forces from August 6, 2007.[2] The regular Halo 3 Zune had a grey and blue casing, with the Military Edition having a brown and tan casing.
Official description
[
edit
]
"
SPECIAL EDITION HALO ZUNE

Get your game on with the Zune™ - Halo® 3 Edition!

Custom Halo graphics
Special edition, customized packaging
Exclusive episode of Red vs. Blue

Now, with the Halo 3 edition Zune, we've got something specifically for Halo fans and the gaming community.

30GB. Wireless Zune to Zune Sharing. Big, 3-inch screen. FM radio. Tons of pre-loaded content. Available exclusively through GameStop/EB Games beginning June 15, 2007.

Special Edition Halo Zune - $246**[1]

"
Contents
[
edit
]
The Halo 3 Zune came pre-loaded with a number of promotional and concept images, videos and music.
The
Halo 3
Edition Zune comes preloaded with:
Starry Night trailer
Three Halo 3 ViDocs.
An exclusive Red vs. Blue PSA; Red vs. Blue: Turn On, Tune In, Zune Out
The first six episodes of Red vs. Blue Season 1
Artwork
[
edit
]
The Halo 3 Edition Zune comes preloaded with over 120 different images, including game concept art, storyboards, paintings, and conceptual marketing imagery.
Note: Where possible, the original provided images have been supplemented with higher-resolution alternatives, due to the low resolution of the originals included on the Zune.
Halo Brand Imagery

[

edit

]
Halo Concept Art

[

edit

]
Halo Graphic Novel

[

edit

]
Marketing concepts
[
edit
]
Paintings
[
edit
]
Halo 3 storyboards

[

edit

]
Gallery
[
edit
]
Sources
[
edit
]