Basic Training Honor Graduate Ribbon
From Halopedia, the Halo wiki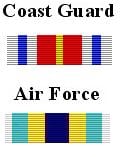 The Basic Training Honor Graduate Ribbon is a military decoration of the United Nations Space Command. Originally a United States Air Force and Coast Guard decoration, the design of the Air Force variant was adopted by the UNSC. The award recognizes exceptional recruits who graduate at the top of their class upon completion of basic training.
History
[
edit
]
The Basic Military Training Honor Graduate Ribbon was established in April 1976 as a decoration of the U.S. Air Force by order of the Air Force Chief of Staff, General David Charles Jones. The decoration was awarded to graduates of Air Force basic training who obtained an honor graduate designation, and demonstrated excellence in all areas of academic and military training.
After the foundation of the UNSC Defense Force, the UNSC Navy adopted the Basic Military Training Honor Graduate Ribbon as one of its own decorations. Jacob Keyes earned this decoration some time prior to 2552.[1]
Known recipients
[
edit
]
Sources
[
edit
]