Archive Reader T4
From Halopedia, the Halo wiki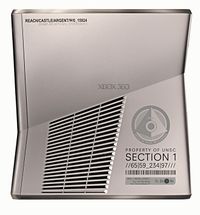 The Archive Reader T4 is a device that belongs to ONI Section One. It has a media reader. It weighs 2.896 kg. Some are kept at CASTLE Base.[1]
Information
[
edit
]
Overview
[
edit
]
The device weighs 2.896 kg. It complies with MIL STD34X082FD.[1]
The device are used by ONI Section One, and some were located on Reach at CASTLE Base.[1]
Unit text
[
edit
]
REACH/CASTLE/ARGENT/Ψ/0_15924
COMPLIES WITH MIL_STD34X082FD

REACH
REQ: //65|59_234|97//
P/Code: X807304-002
Type: (#PO500-80530)
Item: Archive Reader T4
SCI 2006.08.18
10 / D65, 84.51,-0.75.-1.39
Unit weight: 2.896 kg
Lot: T|328|K|104|700-92

PROPERTY OF UNSC 
SECTION 1 
//65|59_234|97///

MEDIA READER
This is the in-universe explanation for the Special Halo: Reach Slim Xbox 360 console.[1]
Gallery
[
edit
]
Sources
[
edit
]