Aquarius Terraforming Solutions
From Halopedia, the Halo wiki
This article is about the company. For the multiplayer map, see
Aquarius
.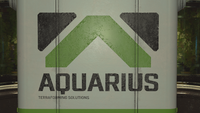 "Industry leader in returning life to barren worlds."
— A slogan of Aquarius Terraforming Solutions[1]
Aquarius Terraforming Solutions is a human company that specializes in the terraforming of uninhabitable worlds, including those that were once livable, but became barren as the result of some outside force.[1] In their pursuit of revitalizing dead worlds, their facilities study water and plant life.[2]
Overview
[
edit
]
Aquarius are an industry leader in the terraforming business. Their largest and most profitable facilities cultivate new food crops, but other divisions provide critical infrastructure and ecological management solutions for a wide range of worlds, often under extraordinary environmental conditions.[3]
History
[
edit
]
Prior to The Reclamation, Aquarius was a prime candidate for the ongoing re-terraforming of Reach. Their main competitors in the endeavour were the Liang-Dortmund Corporation, though Aquarius was favorably viewed due to Liang-Dortmund requiring concessions in territory and resources which would prove problematic to the Unified Earth Government.[3]
Aquarius is a constellation of the zodiac. It is Latin for "water-carrier," possibly alluding to the company's goal of bringing life to dead worlds, a process that includes their study of the water quality of said planets.
The multiplayer map Aquarius in Halo Infinite is set within an Aquarius Terraforming Solutions facility.[1]
Gallery
[
edit
]
List of appearances
[
edit
]
Sources
[
edit
]