News
:
Archive/3 August 2009/Questions for 343 Industries
From Halopedia, the Halo wiki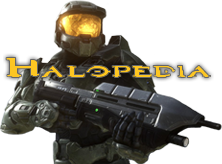 HALOPEDIA NEWS
Questions for 343 Industries

Story by CommanderTony
August 3rd, 2009
Intro
CommanderTony has landed an exclusive interview with Kevin Grace, Frank O'Connor's "right hand man" at 343 Industries.
(UPDATE) Monday, August 10th, 2009: I'd like to thank everybody who submitted a question over the past week, and I will shortly consult with our new friends over at 343 to get this interview out shortly. Thank you!
News
Our last interview back in May with Fred Van Lente was a huge success, not only due in part to me, but the many people on our IRC Channel who submitted questions for me to ask. And after that, I asked Frankie for an interview, and while he said yes...it wouldn't be the "time" for another couple of months.
It's been a while since that interview, and I assume that the "time" has come. Last week, Halo Legends, the anime adaptation of the Halo universe, was announced at the San Diego Comic-Con to a crowd of hundreds screaming in joy for this new medium to present the franchise. And while Bungie may be saying goodbye to their baby after nine years with the launch of the prequel, Halo: Reach, there's one company that will be taking over their reigns of this sci-fi juggernaut.
343 Industries, also revealed to the public at Comic-Con, will carry our beloved franchise into the next decade as it gains momentum and a larger fanbase. Under their guidance, two comic book series, a novel trilogy, and a Halo encyclopedia will make it's way into your living rooms in the next year alone. And then men behind this new charge will be speaking with us in the next couple of days.
Now all I ask of you, the Halopedian community and our good friends across the Halo nation, is simply give us a comment or two on what you'd like me to ask! I'll send about twenty to thirty comments selected from the community.
You stay frosty Halopedia!
Comments
Please keep your comments civil, short (five-word minimum), to the point, and good. Thank you!