Kiki Wolfkill
From Halopedia, the Halo wiki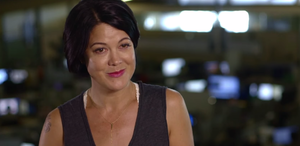 Kiki Wolfkill is an executive producer at 343 Industries. She has worked on numerous projects, including Halo 4,[1] Halo: Nightfall, Halo 5: Guardians, and the Halo Channel.[2]
Background
[
edit
]
Born in Seattle, Washington and raised on a farm in New Hope, Pennsylvania, Wolfkill originally planned to pursue Chinese studies at Cornell University. However, she decided to attend a college in Seattle for several years before joining a non-competitive race car league. After an internship at Asymetrix, Kiki worked with Microsoft Encarta before eventually moving to the development of Microsoft computer games. Soon, Wolfkill became the director of art at Microsoft Game Studios.[3] Before working with 343 Industries, Wolfkill served as the head of the art department during the development of the first two games in the Project Gotham Racing series. Later, she contributed to some degree to the making of Halo Legends.[4]
When 343 Industries was formed by Microsoft to take control of the Halo series, Kiki Wolfkill was appointed a leading role with the future of Halo. Wolfkill has chosen to focus on the Halo universe itself, rather than the game. She contributed to the creation of Halo 4: Forward Unto Dawn.[3] In 2012, she served as an executive producer on Halo 4. She was involved in the story and script writing, including the creation of the new Promethean enemy class.[5] After Halo 4, Wolfkill became in charge of overseeing digital cross-media Halo entertainment.[6] She helped manage and produce Halo: Nightfall, working on set with other directors of the series. Kiki was one of the major contributors and developers of the Halo Channel. One of her stated goals for the channel was to allow fans to better explore the Halo universe.[3]
Sources
[
edit
]
External links
[
edit
]