Andy Dudynsky
From Halopedia, the Halo wiki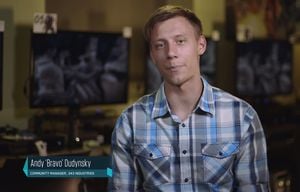 Andy Dudynsky, also known as Bravo, was the Community Manager for 343 Industries. Between 2010 and 2012, Bravo served as the Director of Content and PR at Gamers Outreach Foundation. Dudynsky began working at 343i on November 26, 2012 as a producer, working on Halo multiplayer content. Bravo became the Community Manager for 343 Industries after Jessica Shea stepped down for a different position in 343 Industries on March 19, 2014. Following Shea's position transfer, Dudynsky also took control of writing each weekly Halo Bulletin on Halo Waypoint.[1]
The Halo Bulletin was replaced on November 14, 2014 by The Bulletin, a video feature of the Halo Channel that occasionally featured Dudynsky.[2] After the series' last episode on September 11, 2015,[3] The Bulletin was replaced by the Halo Community Update, a series of blog posts written by Dudynsky and Jeff Easterling that are posted on Halo Waypoint. As Community Manager, Bravo often interacts with Halo fans through Halo Waypoint, reddit, and Twitter. He hosts "Breaking Down the Map", a video series that breaks down the Halo multiplayer maps featured on the Halo Channel.[4] As Community Manger of 343 Industries, Bravo was heavily involved with eSports in the Halo community. He previously worked as a professional announcer for Major League Gaming. In 2013, he hosted the Halo 4 Global Championship and served as an announcer.[5] Bravo helped to manage the Halo Championship Series, the official Halo eSports league.[6][7]
On May 30, 2018, Bravo announced he was leaving 343 Industries to spend some time with his family and work on his personal projects, but that he would still cast Halo esports events.[8]
In November 2021, Dudynsky released Halo 2: Artifacts - a documentary podcast hosted by Dudynsky and Halo 2 multiplayer lead Max Hoberman.[9]
Gallery
Sources
External links