Terminal (Halo: Combat Evolved Anniversary)/Five
From Halopedia, the Halo wiki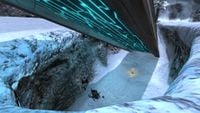 Campaign level: Assault on the Control Room (video-guide)
The fifth terminal is located at the bottom of a pit in front of the Control Room structure at the end of the level. The terminal is on the ground, under the base of a large metal strut that runs diagonally down the front building.
---
| | | |
| --- | --- | --- |
| " | The crash of unknown visitors pits curiosity against duty. | " |
[044657.04.23.01.17.22]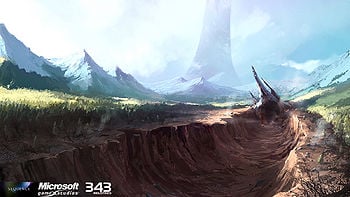 UPDATING REPORT
343 Guilty Spark: "It has been 26 hours since the sentients landed in Sector 1215, and so far they have not attempted to exit the remains of their vessel."
A schematic of the crashed vessel is shown.
REPORT 857898-654-004
CATALOGING INCIDENT 000654
PROFOUND (0) MAJOR (1) MINOR (677)
PASSIVE VIOLATION OCCURRED
PEAK INTEREST: 7
CURRENT INTEREST: 5
CHANGE: NULL (6122 CYCLES)
CYCLES UNTIL DEMOTION: 109283
SENSORS OCCUPIED: 42
RESPONSE CALCULATION
YIELD: 507
ATMOSPHERE: NORMALIZED TO 87%
STRUCTURE: FAILED (17 MAJOR)
MECHANICAL ORIGIN: UNKNOWN
INTERFACE SYSTEMS: UNKNOWN
NONSYNTHETIC LIFE: UNKNOWN
ENERGY OUTPUT: NULL
HYDROGEN OUTPUT: NULL
ARTIFICIAL INTELLIGENCE: UNKNOWN
TACTICAL RESPONSES: NULL
EMERGENT SYSTEMS: NULL
SYNTHETIC SYSTEMS: NULL
BACKFLOW SYSTEMS: NULL
EMERGENCY RESPONSES: NULL
ENTROPY: 769000 CYCLES (+/- 5000)
SENTIENT SYSTEM PROBABILITY: 99.883897%
343 Guilty Spark: "I say "remains" because their landing was either not executed adequately, or this vessel lacked significant maneuvering capability. The visible portions of the vessel have suffered catastrophic structural damage during the violent landing experience."
Hull breaches along the starship are highlighted.
343 Guilty Spark: "I have detected atmospheric leaks in 17 distinct locations along the hull. My analysis shows that a mixture of gases coming from the ship matches the natural atmosphere of my Installation almost exactly."
343 Guilty Spark speeds toward the burning wreck.
343 Guilty Spark: "Perhaps the occupants, if they still live, were originally catalogued here! Perhaps these beings will confirm that the Plan was successful, and that the galaxy has returned to its proper cadence! I am beyond optimistic!"
343 Guilty Spark is shown scanning the outer hull of the ship. A huge trench have been dug into the surface during the crash-landing.
343 Guilty Spark: "But I do not understand why these sentients have not attempted to exit their vessel. Other than the leaking atmosphere, the only thing emanating from this refuge is an automated distress call."
An analysis of the alien vessel's broadcast is shown.
UNKNOWN ETYMOLOGY
TRANSLATING
343 Guilty Spark: "I am currently translating this automated broadcast, but with such a limited data set and no direct communication, I do not anticipate full comprehension."
A display of Installation 04's surrounding space is shown. The signal is broadcasting into space.
343 Guilty Spark: "Given the short-range nature of this craft, it is likely that other vessels are nearby."
ESTABLISHING TRANSMISSION BARRIER
343 Guilty Spark: "But...in accordance with procedure, I am blocking the distress call. No communication of the location of any Installation is permissible."
An electronic jamming barrier is erected around the Installation. The signal slowly fades.
343 Guilty Spark: "I admit great curiosity about these visitors. While the plan is quite clear about the procedure of this situation, I have my doubts."
An overhead view of the crashed vessel is shown.
343 Guilty Spark: "How many failure points can the plan sustain before blind adherence becomes counterproductive? Surely in light of all that has changed, I should be able to modify my responses to adapt-"
The view zooms out to a section of Installation 04.
343 Guilty Spark: "No. I have duties, and I have a terrible cargo here. I must be sure. I shall obey and content myself to monitor."
The system's sun rises over Threshold.
343 Guilty Spark: "I hope they come out soon, though. So many questions to ask! So many questions!"